Event
Highlights from the 15th Anniversary Festival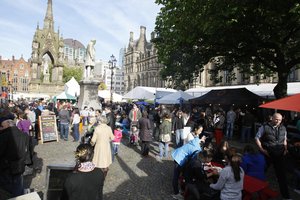 It's time to reflect on the 18 days of food and drink madness that hit the city! It's fair to say you flocked to the Festival Hub in your thousands to enjoy the fantastic array of street food traders, ciders, beers, producers and cocktails galore.
Here's a selection of our fav snaps of this year's Fest in all it's glory click here
BIG STATS for a BIG FIFTEENTH CELEBRATION
150,000 people visited the Festival Hub
13,023 pints of Robinsons Ale Drunk
15,048 pints of Veltins guzzled
12,300 pints of Greater Manchester regional ales sold
Over 1,000 people visited the 4th Big Indie Wine and Cheese Fest
Nearly 1,000 dined out for £15 as part of Festival Fifteen
147 jokes submitted to Castlefield Clinics quest to find the funniest joke in the city
15 bespoke MFDF awards handed out to the best of the best at the Gala Dinner at The Lowry Hotel
Over 30 naked life drawings created of Andrew Nutter
950 cupcakes sold to raise money to The Birdhouse
5,230 Ostrich burgers munched
Over 700 jobs supported by the Festival
1 Chilli Eating Champion Crowned! Mr Mark Perrin from Middleton
£3000 raised for Festival Music Partner Charity Musicians Without Borders
15 Inspiring Food Stories immortalised by illustration.
3200 drams glugged at the Manchester Whisky Fest
The MFDF Awards: The Best of the Best.
The Festival came its usual glamourous close at The Lowry Hotel for the annual Gala Dinner Awards. Excellence was celebrated across the dining and drinking scene, as the great and the good of the food and drink industry came together to crown the winners.
Awards were made in 15 categories after public voting and a stringent judging process by a panel of independent judges. Festival Director Siobhan Hanley comments: "The standard of food and drink industry in Manchester continues to reach new heights. With new venues opening, and examples of innovation being seen all over the region, it has been a real delight for our judging team to review the best of the best. "
And if you're not already in the know click here to see the winners