Event
MFDF Gala Dinner & Awards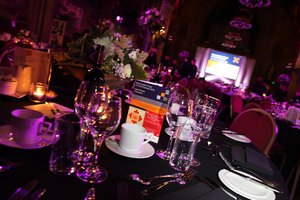 We're excited to announce that the MFDF Gala Dinner and Awards, one of the industry's most hotly anticipated events, is returning to its original home at Manchester's historic Town Hall - the spectacular Great Hall to be precise. This is where the region's highest profile and best-regarded food and drink awards are announced.
The Manchester Food and Drink Awards are a benchmark for excellence in the hospitality industries, and for foodies.
Manchester Disabled People's Access Group (MDPAG) are working with MFDF to provide information about
the accessibility of the venues nominated for awards and about the venues providing activities during the Festival here.
It's not too late to vote for the awards! Click here to see the shortlists, vote, details to purchase tickets will be available soon.
MANCHESTER FOOD AND DRINK AWARD CATEGORIES 2013
Restaurant of the Year
Bar of the Year
Newcomer of the Year
Pub of the Year
Food Pub of the Year
Chef of the Year
Cheap Eats of the Year
Coffee Bar or Tea Shop of the Year
Family Friendly Venue of the Year
Food and Drink Retailer of the Year
The Howard and Ruth Award for Outstanding Achievement