Event
Free Family Funday Sunday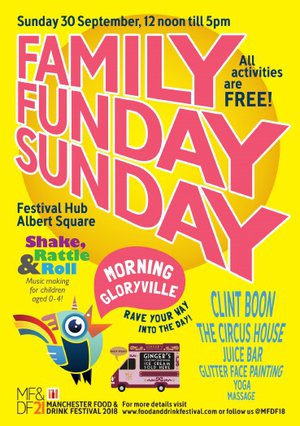 Whilst the Hub has plenty for the kids for all 12 days of the Festival (think Nutella crepes, pizza, pasta, juices, plenty of space to run about etc) the team wanted to create one whole day that's devoted to families and so are transforming the whole of the Hub into a stupendous and splendid child-friendly zone that is just as fabulous for grown-ups too.

The spectacular Dining Dome will be become the Family Food Fest HQ with a fantastic and diverse programme of activity planned.
Morning Gloryvillethe original morning rave, will be coming to Manchester Food and Drink Festival for a fabulous sober, brunch session! Morning Gloryville is an immersive, morning dance party – the pioneers of sober morning raving, they were born in London in 2013 and since then have become a global community of events that empower people to "rave their way into the day!"
They'll be taking over the decks in the Family Dome throughout the day and encouraging glorious, hedonistic dance parties for kids and grown ups alike at regular intervals throughout the day.  This is a chance for the whole family to shake their glow sticks, get glittered up and just dance their way through the end of their weekend!

Morning Gloryville will also be bringing their glitter station, face painting, hoola hoop performers and yoga and reiki therapists to the Hub, plus a local fresh juice bar to create an experience that will energise and inspire – and best of all it's FREE for families of Manchester!

There'll also be organic coffee from Manchester Coffee and Federal will be popping up especially for extra refueling requirements!

Brighter Sound's 'Shake Rattle and Roll', usually resident at Band on the Wall, will be coming to the Festival Hub for a special MFDF takeover. Shake, Rattle and Roll is a music making extravaganza for early years – music, movement and fun comes courtesy of Brighter Sounds' experienced, child centred musicians and include songs composed by brand owner Beth Bishop, as well as old favourites.  Kids and grown up are invited to get stuck into tonnes of instruments and make some wonderful music together – from percussion with puppets to lullabies - across two sessions throughout the day.

This will be free too and places allocated on first come first served basis.  
The fabulous and inspiring people at The Circus House will be striding around the Festival Hub throughout the day too bringing juggling and stilt walking to the proceedings!
Baby changing and feeding will be taken care of by Festival partners Lidl who will also be sampling their own-brand baby products including wipes and nappies. There'll also be sampling healthy family-friendly snacks like fruits, cheeses, crackers and tasty meats – and painting some faces for good measure!
There'll even be a family friendly litter pick hosted by MFDF sustainability partners Quorn. They will be inviting families from the local Quorn teams down to help keep the Square extra clean and tidy as part of Recycle Week.
Meanwhile, over in the Manchester Beer Bar, Clint Boon will be hosting a family friendly indie-disco for kids and grown-ups to dance the weekend away together!
Ice-cream will come courtesy of Ginger's Comfort Emporium and street food legends on site including family favourites Tampopo, Vive La Crepe and Los Churros Amigos. And of course there'll be plenty more to keep the grown ups entertained too including Prosecco, wine, G&Ts, burgers and more!

This is one big Manchester family takeover that is a MUST parents who love festivals and food!