Event
KING STREET TOWNHOUSE - FOODIE FILM AND DINNER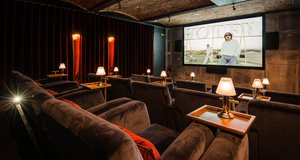 To celebrate Manchester Food & Drink Festival, King Street Townhouse have cooked up the ultimate experience.
Join them for a 2-course à la carte lunch or dinner in the warm and inviting retreat of King Street Tavern. Showcasing soft lighting, plush booths, lavish décor and a menu to suit all moods, the only reason you'll want to leave is for what comes next.  After you feast, sink down in to the sumptuous individual sofa seating of their state-of-the-art screening room for a viewing of an all time favourite foodie film! 
Once you've picked your film of choice please call them at The Tavern to make your dining reservation.
Please note there will be a £5pp supplement for steak.
Children's menu will be available for little ones alongside this screening with a £15pp ticket price
Thursday 26th September - Eat. Pray. Love - 20.00
Friday 27th September -  Burnt - 20.00
Saturday 28th September  - Chef - 14.30
Sunday 29th September - Ratatouille - 16.00
Thursday 3rd October - Chef - 20.00 
Saturday 5th October - Burnt - 20.00