Event
Matt Nutter's Vegan Banquet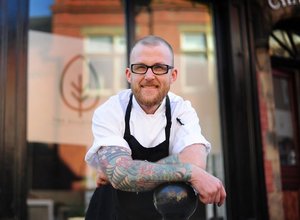 Allotment is one of the most exciting culinary destinations to hit Greater Manchester and rave reviews from the likes of Taste of Manchester are testament to the talents of Matt Nutter and his team, dedicated to producing plant-based fine dining. The seven course vegan banquet will give an insight into just how delicious high quality dairy-free and gluten-free food can be. Why Matt even does cheeses, simulated using fermented nut pastes – and they're yummy.
Menu
Amuse-bouche
Roasted celeriac, caper berries and fried arancini balls atop a coriander & chilli salsa.
Starter
Rich wild mushroom parfait with pickled grapes, porcini dust, and blackberry & apple compote. Soup White courgette, topped with crispy basil & braised baby gem. 
Salad
Sea herb, salt cured beetroot, tapioca caviar
Main
Hickory smoked confit aubergine, Pomme rissolee, char grilled oyster mushroom and bourbon jus
Pre-dessert
Hazelnut praline with orange and rum sorbet
Dessert
Peppermint semifreddo, aerated cacao, mint meringue
This event has now sold out!