Event
OKTOBERFEST AT DÖNER HAUS 2020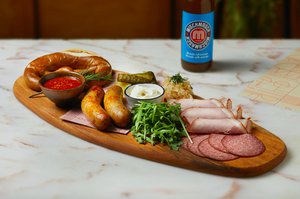 Döner Haus are launching their first ever Annual Oktoberfest Celebrations
Germany has cancelled Oktoberfest this year, so Döner Haus are bringing Oktoberfest to you! Celebrate Oktoberfest at Döner Haus from the 21st September – 4th October 2020.
Döner Haus will be celebrating the world's largest beer and folk festival by serving up huge steins of Bavarian beer, themed cocktails and all the Oktoberfest food you'll love like Bratwurst, Schnitzel and Pretzel. Those who come specially dressed for the occasion will receive a beer on the Haus!
There will be 6 Oktoberfest Biers and an exclusive Oktoberfest menu which will include their Bavarian Platter - Bavarian meats, two paprika wurst and a pretzel. Served with cream cheese, rocket, pickles, sauerkraut and homemade curry ketchup. Perfect for a light bite with a stein of Bitburger Pilsner. 
Other food specials include their very own Volkswagen Currywurst. Pork wurst imported directly from the Volkswagen Wolfsburg factory, who produce more wurst than cars per year. Served with their homemade curry ketchup, sauerkraut, skin-on fries and seasoning. Would be perfectly accompanied with our Hofbrau Oktoberfestbier 6.3%. Make it a Stein if you dare!
Oktoberfest is much more than beer! Oktoberfest is about getting together with friends, colleagues and family, and enjoying the warm and friendly Oktoberfest atmosphere!
Join Doner Haus this year and enjoy proper German beers, Germany's favourite street food with great company and a warm Bavarian welcome!
Tables are filling up fast, so be sure to reserve a table here