Event
The Cider House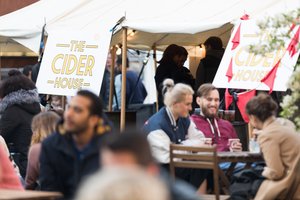 Calling all cider lovers, The Cider House at the Festival Hub is the place to be!
This bespoke bar is teeming with tasty tipples, too – among the line-up Lilley's Apple & Pear and Lemon & Lime, Wild Dog, Mango, Merry Monkey, Red Rabbit, Sunset and Captain Rum.
Make your way through the delcious range of ciders on offer, whilst enjoying the live music and entertainent the Festival Hub has to offer. Make an evening, a day or even a weekend of it!