Event
Vapiano's blind tastings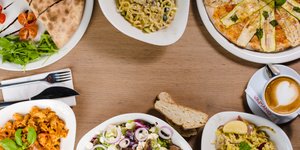 Vapiano Manchester Food & Drink Festival Blind Tasting - 3rd and 4th October at 7pm. Head to Vapiano for something altogether different… Don't be nervous - this isn't a bushtucker trial. It's dishes from their menu but you'll try them blind folded.

Think you can tell your veg apart? How about the herbs? You'd be surprised as to how much you could get wrong when you don't see the food you're eating (until after you've guessed)

Starters, salads, pasta, pizza and dolci -all with a few drinks.

They've done several of these events before and they are a lot of fun! Vapiano is a laid back Italian restaurant with a homemade menu of pasta, pizza and salads. Customers get a swipe card on arrival and use this to order their meal direct with Vapiano's chefs who'll cook it in front of them - then they simply hand their card in to pay on the way out.