Event
citylife night takeover: the happy soul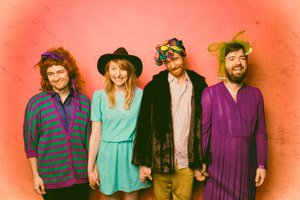 The Happy Soul are a four piece melodic power-pop band from Manchester, UK. They have recently released their second studio album, 'Big Wow' to critical acclaim. 'Big Wow, the second album from The Happy Soul, is an enjoyable blend of strong harmonies, pop panache and swingin' highs relived, when necessary, by just the right amount of melencholy dreaminess.
Influences include Frank Zappa, Jake Thackray, Mahalia Jackson, Scott Walker, Nilsson and The Beach Boys- all of which the band is able to synthesise into a cohesive and robust sound.' Adam Lowe, Vada Magazine
The Happy Soul are Mark Simpson (Vocals/Guitar), Mick Pauline (Drums/Vocals) Sally Mason (Bass/Keyboards/Vocals) and Jon Donohue (Guitar/Bass/Vocals).
The Happy Soul have managed to synthesise the Doo-Wop and Gospel sound of The Impressions & The Soul Stirrers with the lyrical witticisms of George Brassens and Tom Lehrer and shine it through a pop spectrum that appears both vintage and modern. As a live act, they have created mixed media shows in collaboration with Hairbrain's Bedtime Stories, visual artst Garth Simmons, and VideoJam. They have appeared on the same bill as a wide spectrum of acts such as Grandmaster Flash, Dieter Moebius, The Flaming Lips and Ex-Easter Island Head. '...the songs are very modern in their knowing wit, poetic surrealism and Belfast-sink melodrama. Some of them take unexpected twists and turns; others are comforting in their crafted popsong-ness. But what they all have in common is that they'll stick in your head, become earworms and generally make themselves part of your life.' Invisible Girl Records