Event
Randall and Aubin's Champagne and Oyster Evening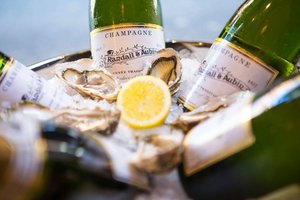 '"The world is your Oyster and at Randall & Aubin we want you to find a pearl.  Although we serve a vast array of seafood at Randall & Aubin nothing puts lead in your pencil quite like Oysters" Ed Baines, Chef & founder of Randall & Aubin.
Would you like to learn more about the decadent world of champagne?  Why are champagne and oysters a famed delicacy the world over?

Let Manchester's newest French brasserie Randall & Aubin, in conjunction with Hallgarten Druitt & Novum wines, enlighten and entertain you.  You are invited to an exclusive champagne and oyster tasting evening on Thursday 28th September at 7pm-8.30pm.
Book early to secure your place, as spaces are limited.