News
Calling all MFDF Ambassadors!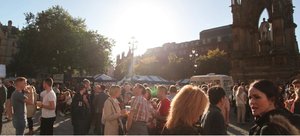 At 17 years old the Manchester Food and Drink Festival is the biggest urban food event in the land.  
The centre of the action will be Albert Square once again, but there's lots of chances to stage events at your establishment too. It's not just about being part of an amazing event; it's about showcasing your business and generating really valuable promotion for your establishment. 
So, make sure you're a part of one of the city's favourite events, and the only one created soley for you, the food and drink industry. 
The Ambassadors Pack here is a comprehensive guide to getting involved, whether you're old or new to the Festival. We're looking forward to talking more!
ADVERTISE IN THE FESTIVAL BROCHURE - THE HOTTEST FOOD AND DRINK GUIDE OF THE YEAR! 
Whether you're participating in the festival or not, snap up a page in the MFDF Festival Brochure. It's the hottest food and drink guide of the year, we print about 80,000 copies and we distribute them FREE with the Manchester Evening News. So it makes sense to be in there - you can use the ad to promote your Festival event or offer, or you can just advertise your venue. 
Space is at a premium so you're advised to reserve yours now. 
80,000 Distribution
Distributed via Manchester Evening News vendors and across the region
Deadline for copy: Friday 25th July. 
For more information download the Brochure Rate Card here.
---
« Nominate yourself for a Food and Drink Festival Award! | Interested in Exhibiting at MFDF 2016 »
Posted on 27 March 2014