News
Interested in Exhibiting at MFDF 2016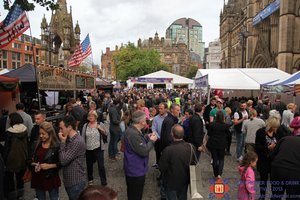 Started in 1997 Manchester Food and Drink Festival has become a nationally acclaimed event, and is now in it's astonishing 18th year!
Created at a time when the North was considered something of a gastronomic wasteland, the Festival was founded as a means of proudly showcasing northern food and drink to the rest of the nation.
Now it's as much about celebrating international chefs, national food trends and global gastro issues as it is about promoting northern talent, producers and chefs.
The Festival takes over one of the cities' most iconic public spaces with a huge programme of events for all audiences.
Over the years the festival has drawn names as diverse as Jamie Oliver, Gordon Ramsey and Hugh Fearnley Whittingstall, whilst maintaining its Manchester roots by helping to make local celebrities of the regional industry.
The free to attend Festival Hub is situated on Albert Square in front of the Town Hall. This City Centre square enjoys a fantastic footfall of visitors throughout the year. Last year the festival saw almost 100,000 visitors descend on the Hub.
We enjoy working with brands and organisations to create the most exciting partnerships and biggest impacts so we would love to hear from you.
To register your interest please email: alexa@foodanddrinkfestival.com 
---
« Calling all MFDF Ambassadors! | Get involved with the festival Brochure! »
Posted on 31 March 2014