News
FESTIVAL DATES ANNOUCED FOR 2016!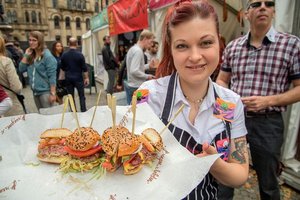 We're very pleased to announce the dates for our 19th annual celebration of all things gastronomically great up North. 
MFDF 2016 will take place from 29th Sept - 10th Oct.
The Festival promises to feature the most jam-packed programme of food and drink activity yet. 

"Its great to see Manchester continually named in lists of the best places to live in the UK and to be recognised on the global stage. The world-class food and drink community is a major reason for that. It's incredible to think how far Manchester's gastronomic offer has come since the first festival almost 20 years ago. The 2016 event will be a celebration of Manchester's great food scene and the people who make it what it is." commented Phil Jones, the Festival's founder. 

The first programme announcements will be made in two week's time, and will include the return of the Festival Hub to Albert Square, appearances from chefs from around the UK, the MFDF Gala Dinner and Awards and some exciting new venues and partners. 

MFDF 2015 
This year's celebration follows a mega year for MFDF in 2015…
90,000 People visited the Festival Hub, Albert Square
7000 Gin & Tonics slurped
50 Bands took over the MFDF Stage
36 Street Food traders served up delicious menus
48 Programmed events took over venues across the city as part of the Fringe Festival
200 Local restaurants, bars & businesses supported the festival
12 Incredible deserving award winners 
---
« NOMINATIONS ARE OPEN FOR MANCHESTER FOOD AND DRINK FESTIVAL AWARDS! | First Festival Programme Announcements for 2016! »
Posted on 12 May 2016