News
First Festival Programme Announcements for 2016!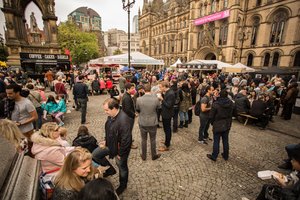 The 19TH Manchester Food and Drink Festival will take place from the 29TH September – 10th October 2016.
MFDF has today announced the first elements of the 2016 programme.
The schedule promises to take in the true breadth of what Manchester has to offer in 2016. This will be a celebration of the nation's biggest passion  - eating and drinking – from the UK's most exciting city. 
The Festival is to take in Manchester's most talented chefs and spectacular locations; the finest restaurants and the coolest bars; the most innovative brewers and the region's real & radical food heroes. 
MFDF blazed a trail 19 years ago, making Manchester the home of the UK's first urban food and drink festival. Today it remains the biggest and brightest event of its kind, while Manchester's national and international status grows year on year. 
This year's Festival will be a true, Mancunian celebration of everything that is gastronomically great up North – 12 action-packed days of Manchester's most exceptional food and drink happenings…  
The Festival is calling on all food and drink heroes in Greater Manchester and beyond to join in the celebrations and contribute to the programme. Interested parties should email alexa@foodanddrinkfestival.com.

MFDF will be making regular announcements from now on, with lots more exciting news on the way. 

The next announcement will be the MFDF Gala Dinner and Awards location and awards shortlist on 22nd June.
THE NEW AND IMPROVED FESTIVAL HUB
Albert Square
29th September – 9th October 
FREE 
The heart of the action, the Festival Hub, will remain at its traditional home on Albert Square, and will be a 'better than ever' bespoke, pop-up food village, open from 12noon – 11pm daily! As ever the Hub is free and fantastic, but 2016 will see the 'beating heart' of the Festival get a makeover, with a whole new design, layout and some exciting additions too.  In situ throughout the Festival will be the city's best mix of street food traders (from Manchester and beyond), Marstons Ale Trail Bar, Vin Van Voom Wine, the MFDF live music stage and the now legendary Manchester's 100 Greatest Beer Bar.

In addition there'll be a rolling programme of pop up events, mini festivals, masterclasses and more… Watch this space.


GUEST CHEFS & STARS 
Various Locations
29th September – 10th October 
FREE AND TICKETED 
As ever, MFDF will be an opportunity to see some of the finest talent in the region (and nation!) perform gastronomic alchemy – whether its before vistors' eyes at the live cookery theatre or serving it up on a plate at a banquet, MFDF is a time to watch, taste and learn. 

Confirmed culinary stars so far include… 

Nadiya Hussain 
Great British Bake Off winner and the country's darling of all things delicious and fluffy, Nadia will be performing in the Live Cookery Theatre and sharing her home grown baking tips on Saturday 8th October.  

Aiden Byrne  
Our city's own chef super star, Aiden will be performing live at the Festival, as well as collaborating with others for a special Festival spectacular – see below!
Nacho Manzano 
Three Michelin starred executive chef of Iberica, Nacho will be visiting Manchester especially for the Festival and hosting a one off, extra special MFDF event on 4thOctober. 
Susy Atkins 
One of UK's best known and loved wine writers and experts, Susy Atkins will be stepping out of Saturday Kitchen straight to Manchester, where she'll be performing at MFDF's second annual Three Wine Women event on 29th September – see below for more!
Adam Reid 
Manchester's fine dining extraordinaire, Adam Reid of The French by Simon Rogan will be sharing secrets at the Festival Hub, as well as staging his very own, one-off restaurant this year – see below! 

Jackie Kearney 
Author of Vegan Street Food, Master Chef Runner Up and general street food legend, Jackie Kearney will be gracing MFDF with her meat and dairy free super powers with an experimental vegan banquet – more details to be announced soon!
Claire Kelsey 
Ice Cream alchemist and general sweet things superwoman, Claire Kelsey will be performing at this year's Festival along with the rest of her Milk Jam crew, baking goddess Charlotte O'Toole of Bakeorama and Nicky Griffiths of Lush Brownies - more details to be announced soon! 


Kate Goodman 
Kate Goodman, founder and owner of the award-winning Reserve wine company with a family of 3 independent wine shops around the northwest. Her career has spanned TV and radio and most recently Kate co-presented BBC 2's Food and Wine show. A passionate wine expert, Kate will be back on board at MFDF for Three Wine Women as well as The Big Indie Wine Fest on 7th& 8th October. 


POP-UPS – ALBERT SQUARE'S OWN GUEST RESTAURANTS
Albert Square 
Throughout the Festival 
TICKETED 

This year's Festival Hub will have it's own pop-up restaurant at MFDF as guests from  the city and suburb's bring special, one-off festival restaurant experiences to Albert Square. 

With limited availability these very special dining occasions are expected to go in a flash so watch this space for tickets going on sale!

This will include… 

EAT With Adam  - Adam Reid's MFDF Fest-aurant  
4th, 5th, 6th October
£60 
The French by Simon Rogan's acclaimed Head Chef and previous MFDF 'Chef of the Year', Adam Reid, will be bringing an exclusive and bespoke tasting experience to the Festival Hub. Expect an original take on a truly inclusive tasting menu, designed specifically for MFDF 2016.
Tickets on sale soon.
Baratxuri In The City 
TICKETED
The amazing team behind Ramsbottom's Baratxuri pintxos bar will be bringing their delicious Basque Country themed menu out from the suburbs and into the heart of the city to take over the Festival Hub guest restaurant for one night only.
More details to be announced soon.
THE MFDF BIG INDIE WINE FEST 
The Whitworth Art Gallery 
7th & 8th October 
TICKETED 
One of the Festival's longest standing and most beloved events finds its spiritual home at last, as it comes to a venue that can finally equal the beauty of the wines on offer! This will be the biggest, best and most 'artistic' celebration of exciting, exclusive and boutique wines from the very best independent wine merchants from across the UK. There'll be suitable refueling opportunities provided by fine food producers too. 
Tickets on sale soon.

THE MFDF HIDDEN BANQUETS SERIES… IN ASSOCIATION WITH ALLIED LONDON 
Various Locations 
Throughout the Festival 
TICKETED

MFDF have teamed up with one of Manchester's most creative developers, Allied London, to bring a celebration of food, culture and the city's spectacular landscape to Manchester, the likes of which has never been done before.

The Hidden Banquets series will allow festival-goers to explore some of the city's secret, undiscovered and down right jaw dropping right spaces, in association with the nation's most talented and exciting chefs, all in the context of Manchester's cultural identity and heritage. 

The banquet series is sponsored by Allied London whose vision and ability to reimagine urban spaces is internationally renowned. 

Each banquet in the series will take in a different, remarkable location, feature a different exceptional chef, and will be themed around the most iconic aspects of Manchester's heritage, identity and contribution to the world.

The first banquet to be revealed is… 
"INNOVATION" BY AIDEN BYRNE AT LONDON ROAD FIRE STATION. 
Manchester is perhaps most famous for its spirit of innovation – a special sort of vision and ingenuity that has brought the world the first computer, the Rolls Royce, the man who cracked the enigma code and, today, some of the most exciting restaurant businesses and concepts in the UK. 
Who better than to lead a banquet on this subject but Manchester House's Aiden Byrne, and where better to stage it than the city's most exciting development London Road Fire Station?
This will be a chance for 200 ticket holders to explore the hidden beauty of one of the city's (almost) forgotten historic treasures, as Allied London open the doors for MFDF to stage a totally unique, one-off banquet in the old engine room of the extraordinary London Road Fire Station. A contribution from ticket sales will be given to The Christie and Manchester Children's Hospital in Tim Bacon's name.
Tickets to this spectacular event will be on sale very soon – watch this space.
ITALIAN FESTIVAL IN ASSOCIATON WITH SALVI'S
Festival Hub 
2nd October 
FREE
This year the Festival will be celebrating the country that has perhaps given the world more cuisine to treasure than anywhere else. After all, where would Manchester be without the Italian contribution to our gastronomy and heritage… and most of all without pizza! As the city's thirst for Italian food seems to grow weekly, MFDF have teamed with Manchester's authentic Italian food business, Salvi's, to stage a weekend dedicated to the likes of Buffalo Mozzarella, Gorgonzola, Prosecco, pizza, gelato, olive oil, salami, Parma ham, Primativo and stacks more. 
Salvi's will be inviting their favourite producers from Naples and the Campania region, where they're from, to the Festival for one weekend of blissful banqueting at the Festival Hub. As well as food stalls, samplings and tastings there'll be a "20 Metre Pizza" street collaboration as well as dedicated 'Italian heritage' walks around the city too! 


THREE WINE WOMEN 
Festival Hub 
29TH September 
TICKETED 
After the success of last year's Three Wine Women event, this year MFDF will be staging the event on a new theme and with a new visiting 'wine woman'! Susy Atkins will join the BBC's Kate Goodman (owner of Didsbury's Reserve Wine Shop) and Evuna Manchester's Jane Dowler who will make up this year's trio of talent hosting an extraordinary evening of fabulous wines.  
Tickets on sale soon. 


THE FESTIVAL FRINGE 
As well as the Festival events mentioned so far, there'll be a whole host of other wild and wonderful food events across Manchester's spectacular restaurants, bars, cafes, delis, museums and more. 

The full programme will be announced over the coming months, but participating venues include El Gato Negro, Hawksmoor, Iberica, Eagle and Child, Tariff and Dale, Mr Cooper's, Albert's Schloss, Harvey Nichols, Heaton Hops, James Martin and many more. 
BOOKATABLE FESTIVAL FEAST 
Across Manchester  
Throughout the Festival
Booking Required
The Bookatable Festival Feast will be a series of limited edition, bespoke, dining menus, created by Manchester's restaurants especially for the Manchester Food and Drink festival in association with Bookatable! 
GREAT MANCHESTER BAKE OFF 
Festival Hub 
9th October 
FREE
Following the success of last year's Great Manchester Bake Off, we'll be on the search again for Manchester's greatest bakers! We'll be inviting the region's hottest amateur bakers to enter the race to become Manchester's second MFDF Bake Off Champion. Entrants will need to register, then will be invited to bring their creations to the first heat to be judged by MFDF's answer to Mary Berry and Paul Hollywood… All will be revealed soon! Finalists will be chosen at the first heat when they'll be challenged to bring another creation to the Festival Hub on the 9th October, where a huge Festival Bake Sale will be taking place! 
More details to be announced. 

The Manchester Food and Drink Festival Gala Dinner and Awards will be taking place on the 10th October. Full details of the location for the Dinner and the Awards Shortlist will be announced on Wednesday 22nd June. 
Phil Jones, Festival Founder commented:
"The 2016 Festival will be a true celebration of Manchester's place as a European food and drink capital. The emphasis is on creating new and exciting events, of which we are announcing many today, as well as revamping old favourites, such as The Festival Hub on Albert Square and The Big Indie Wine Fest. The MFDF Awards will be even more hotly contested than ever. We're very proud of the consistent economic benefits they bring to the nominees (Around 750 different outlets since conception) and the prestige poured upon the winners. Please put the dates in your diary and we'll see you there."
---
« FESTIVAL DATES ANNOUCED FOR 2016! | A star studded chef line up for 2016! »
Posted on 29 May 2016