News
HISPI MEETS THE REFUGE BY VOLTA AT THE MAYFIELD BANQUET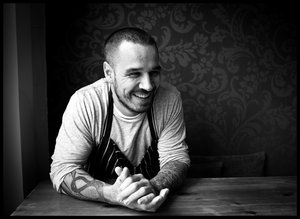 A unique food, drink and music collaboration between bistro entrepreneur Gary Usher of Hispi and DJ duo turned restaurateurs, Justin Crawford and Luke Cowdrey, will take place as part of MFDF on Thursday 5th October at The Mayfield.
This casual banquet offers its guests a totally unique dining experience, as music and food come together to create an amazing event with distinctive dishes that Gary, Justin and Luke are renowned for.
Gary will be joined by his Hispi Head Chef, Richard Sharples, to cook up a 'tear and share' menu, including gin cured sea trout, apple, kohlrabi, fennel and creme fraiche, whole chargrilled leg of lamb and dark chocolate pate and cratedigger ice cream, hazelnut granola.  Everyone will be on their feet dancing as the Unabombers DJ throughout, with the evening culminating with a typically lively set from the duo. Be prepared for a high-octane night!
The banquet starts at 7.30pm.  
Tickets are priced at £55 and are available at http://manchesterfoodanddrinkfestival.nutickets.com/Hispi.
---
« DOWNLOAD THE FESTIVAL BROCHURE NOW! | Our spectacular 20th Anniversary programme! »
Posted on 24 August 2017