News
Our spectacular 20th Anniversary programme!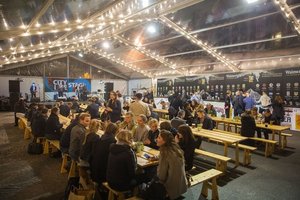 The original Manchester food party and, 20 festivals later, still the best, we're offering up an unparalleled range and breadth of events, with something to please all palates.
No food celebration in the north brings together so many talented collaborators from so many corners of the food scene.
The 20th anniversary programme is more creative, exciting and diverse than ever.
This year's Festival sees involvement from 252 partners including chefs, brewers, authors, street food traders, wine merchants, restaurants, cafes, art galleries, forgotten railways, community groups, pubs, bars and food foragers.
There are more than 100 events happening across the city and surrounding neighborhoods with food heroes descending on Manchester from all over the region and the UK! From Ella Mills' first pop up outside London to Altrincham's fabulous Sugo (both pitching up in the city centre especially for MFDF) Manchester is set to be the UK's top food destination of the Autumn.
The centre piece is the Festival Hub on Albert Square, where the biggest and best-ever, FREE, pop up food village is to be built.  This will become the city's very own heavenly food and drink neighbourhood for 11 jam-packed days. The Hub will be open from 12noon – 11pm daily and will feature street food, an indie beer festival, gin, wine, chefs, masterclasses, pop up restaurants, live music and more.
As well as the Hub happenings, there's banquets in forgotten railway arches; fine dining extravaganzas in some of the city's most glamourous restaurants; wine festivals; cocktail safaris; gin trails; food entrepreneur workshops; rustic basque banquets; 'Manchester Tart-Offs'; craft beer tastings; cakes; 'octogenarian cookery'; mushroom foraging… and of course the MFDF Gala Dinner and Awards.
Below are a selection of Festival highlights, and there is a huge amount more detailed in the Festival brochure, which can be downloaded here.
Phil Jones, Festival Founding Director commented:
"We hope Manchester is hungry! This is without a doubt our biggest and best programme yet – there is something fantastic happening every day throughout this Festival! Events are selling out fast so I advise foodies to pick up a brochure or get on the festival website and grab themselves a place at whatever takes their fancy ASAP! We'd like to say a big thank you to all the brilliant chefs, partners and restaurants who have come together to make this such a special celebration of Manchester's food culture. Happy Birthday MFDF and all and we'll see you at the Festival Hub!"
20 PROGRAMME HIGHLIGHTS FROM THE 20TH ANNIVERSARY
1) INTRODUCING THE FESTIVAL HUB  - THE LIFE AND SOUL OF THE PARTY
#HUBBAHUBBA
Albert Square
28th September – 8th October
FREE
THE HEART OF THE ACTION, the Festival Hub, will remain at its traditional home on Albert Square, and will be a 'better than ever' bespoke, pop-up food village, open from 12noon – 11pm daily! As ever the Hub is free and fantastic, with a whole new design, layout and some exciting additions too.  In situ throughout the Festival will be the city's best mix of street food traders (from Manchester and beyond), Vin Van Voom Wine bar, the CITYLIFE live music stage, the MFDF Live Cookery Theatre, an indie beer festival, a gin garden, wine tastings, pop up restaurants, masterclasses, workshops and more.

There's even 2 Hub Cocktail Bars this year!
Cocktail Institution, Be At One, will be serving up a range of their classic cocktails from 28th September – 3rd October including Porn Star Martinis, Mojitos and their specialty 'Candy Pants'!
Cocktails and Carbs hosted by Laundrette from 4th -8th October will be serving  an array of their delicious cocktails accompanied by candy floss, toasted marshmallows, bath tubs and ice cream!
2) MFDF @ MAYFIELD
Mayfield Depot
29th September – 7th October
Ticketed
Manchester's abandoned railway station, and one of the city's most jaw-dropping spaces, is the location for our 20th birthday feasts.

Breathing new life into this forgotten space, Mayfield will be transformed for the Festival into an extraordinary dining room and party space. A unique, one-off chance to eat, drink and party in an awe-inspiring, historic, giant of a Manchester landmark.  
Friday 29th September – MFDF & Tampopo 20th Birthday Party
Authentic, independent Pan Asian restaurant, Tampopo, is 20 this year too. We'll be celebrating our joint birthday together the only way that we both know how…with one great big gastro birthday party in a magnificent location. With DJ sets from Graeme Park, music from Happy Mondays' Rowetta and lots of fabulous Tampopo food and drink - expect a hedonistic mix of full moon party fun and Manchester icons.
Get your tickets here.
Tickets include food, entertainment and welcome drinks.

Thursday 5th October – Hispi Meets The Unabombers. 
A collaboration between food and drink innovator, Gary Usher, and club alchemists-turned-restauranteurs The Unabombers, this huge banquet-come-food party will bring together 2 of the hottest food brands in the north – The Refuge and Hispi – along with club pioneers The Unabombers as they DJ throughout.  A completely unique food experience awaits. Get your tickets here
Tickets include food, entertainment and welcome drinks.
Saturday 7th October - Thomasina Miers: Day of the Dead
Forget the infamous "Spectre" opening scene, Thomasina Miers, the red hot Mexican food entrepreneur, brings a new gastro take on the infamous 'Day of the Dead' with a Mexican banquet every bit as fantastical as the venue in which it's taking place.
Get your tickets here
Tickets include food, entertainment and welcome drinks.
3) MFDF INDIE BEER FEST
Festival Hub
28th September-8th October
Noon-11pm
Free
This year's Festival Beer Bar represents a non-stop, indie extravaganza of beautiful brews making this the ultimate 20th birthday beer fest! All on tap, all the way through MFDF, and all making up the Festival centrepiece – the Festival's huge beer bar at the Hub!
What better way to toast the 20th anniversary of the Manchester Food and Drink Festival than by inviting 20 breweries from our world famous scene to contribute their finest beers to the party?
Leading the way will be Brightside, Wildside, Ticketybrew, Black Jack, Runaway, Seven Brothers and the Manchester Brewing Co.
Alongside our local brews are the official beers of MFDF 2017, on tap throughout the festival. Shedhead, a 4.6% ABV American-style pale ale brewed in Sweden, and Brooklyn and Poretti lagers, from America and Italy respectively.
All of this housed under one, gigantic, all weather pop up beer hall complete with long tables, sofas, live music stage and room for dancing!
All this making up one exceptional, double decade celebration of beer.
4) LIVE COOKERY THEATRE
Festival Hub
Various Dates/Times 
Free
Nisha Katona: Cookery Demo & Book Signing: Festival Hub: 7th October, 12:30pm
Owner of Mowgli restaurants, TV personality and Food Writer, Nisha Katona will be sharing her skills at her first MFDF cookery demo, and will be signing copies of her new book 'The Spice Tree'.   

Thomasina Miers: Cookery Demo & Book Signing: Festival Hub: 7th October 2pm.
Ex-Masterchef winner, and Mexican food expert, Thomasina, comes to the MFDF. Prolific author and Guardian columnist, she is demonstrating recipes from her latest book "Home Cook by Thomasina Miers" and signing copies afterwards.

Aiden Bryne : Cookery Demo – Festival Hub: 7th October, 3:30pm                                                                            A prodigious talent, Aiden is renowned in the City for opening the fine dining Manchester House with Living Ventures which sent his profile soaring. It immediately scooped an unprecedented hat-trick of triumphs at the 2014 Manchester Food and Drink Awards – Best Restaurant, Best Bar and Best Newcomer – and now holds a coveted four AA Rosettes.
Kwoklyn Wan: Cookery Demo & Book Signing: Festival Hub: 7th October, 5pm
Brother of stylist and foodie, Gok Wan, Kwoklyn will be coming to Manchester to demonstrate recipes from his new cookery book Chinese Soul Food and signing copies afterwards.  

Ed Baines: Cookery Demo and Q&A: Festival Hub: 29th September, 1pm.                                                       Chef/founder of Randall & Aubin, Ed Baines, is best known for his role as a judge on ITV's hugely successful Britain's Best Dish.  He is hosting his own masterclass and Q&A session at the Hub, sharing some of the secrets of his legendary Soho brasserie, an offshoot of which has transferred to Manchester this year.
Ella Mills: Q and A/Book Signing: Festival Hub: 30th September, 4pm.
Award-winning cookery author and entrepreneur Ella Mills will be at the Festival Hub for a Q&A, sharing some of the secrets of her phenomenal success story and signing copies of her book Deliciously Ella With Friends.
5) Fever Tree Gin Garden and The Dark Spirit Den
Festival Hub
28th September-8th October
Noon – 11pm
Free
An array of extraordinary gins will be on the menu via the free to enter Fever Tree Gin Garden and Dark Spirits Den.
As ever, festival goers will be able to create their very own bespoke, 'ultimate' gin and tonic with a host of gins available, all chosen to perfectly pair with the Fever Tree range of mixers.  This year that will include the biggest collection yet, including Premium Tonic, Naturally Light Tonic, Mediterranean Tonic, Elderflower Tonic, Aromatic Tonic and Lemon Tonic.

The liquor loving won't stop there… The Dark Spirits Den is a brand-new addition to the Festival. It will be the ultimate festival hangout with visitors able to sample their favourite dark spirits, as well as gin, with the most appropriate Fever Tree mixer. There'll be live entertainment from local musicians and songwriters from across Manchester and undercover seating all in a specially created space inspired by the contrasts of light and dark. An exciting venue that's sure to be the place for gorgeous and refreshing drinks by daylight, rainy day cocktails, as well as after dark fun...
Each of Fever Tree's premium natural mixers have been carefully crafted to complement the varied flavour profiles of gin and dark spirits and there will be a wide range of premium and artisan spirits available to sample with the mixers.  The dark spirit mixers that will be available include Fever Tree Madagascan Cola, Ginger Ale, Ginger Beer and Sicilian lemonade.  
For a more immersive drinking experience, join Fever-Tree on their Spirit Safari, which will showcase some of the best drinking spots in the city.
6) MFDF BIG INDIE WINE FEST
Manchester Hall
6th & 7th October
Ticketed
One of Manchester's most well known buildings, located at the gateway to Spinningfields, Manchester Hall is a Grade II listed building that has been transformed into a stunning and unique space.  It will be hosting this year's ' Big Indie Wine Fest' which returns as one of the most popular events at MFDF.  With an extra special bonanza of independent wine merchants bringing the highest quality exclusive wine, this event is one not to be missed.  Serving new wines from Croatia to independent French wines the event will also host a session of masterclasses including a wine tasting masterclass by the BBC's Kate Goodman.
Get your tickets here.
7) CUP NORTH
Festival Hub
1ST October
Noon – 6pm.
FREE
Cup North, the people behind Manchester Coffee Festival will be popping up at the Hub to present a day of tasting, talking and learning. Inside the coffee tent there will be the opportunity to try and buy coffee from a range of local roasters including Heart & Graft, Ancoats Coffee Co. and Passionfruit. Visitors are invited to engage with a number of free talks and demos throughout the day, all aimed at bringing consumers closer to the world of professional coffee making.
8) CHEESE AND CIDEROLOGIST
Festival Hub
4th October
6:30pm.
Ticketed.
The city of Manchester has but one commercial cider maker and he cordially invites you to join him and his team for this MFDF special event. With an impressive back catalogue of previous Cheese & Cider nights, join founder of The Moss Cider Project and new found friend Gabe Cook AKA The Ciderologist (Channel 4's Sunday Brunch go-to cider guy) for an evening of pairings from near and far.
These dapper gents, one with the finest facial whiskers this side of Herefordshire, will guide you through 5 courses of cheese and cider's weird and wonderful customs from around the globe and some a little closer to home. "Wassail!" as Gabe would say. 
Get your tickets here.
9)  WINE VS BEER
A PERFECT MATCH – WINE AND BEER TASTING WITH FOOD PAIRING BY RESERVE, CLOUDWATER AND WOLF HOUSE KITCHEN
Festival Hub
6TH October
7pm
Ticketed
BBC star and founder of Reserve wines, Kate Goodman meets Cloudwater Beer extraordinaire, Paul Jones. One of the key figures behind Manchester's micro beer boom, Paul will be teaming up with Kate for the first time to host a fascinating evening exploring the cultural and gastronomic differences between wine and beer alongside the best food pairings for each.
Get your tickets here.
10) MANCHESTER TART OFF & FOREVER MANCHESTER BAKE SALE
Festival Hub
Sunday 8th October
Noon – 6pm.
Free
In celebration of 20 years of MFDF, we're resurrecting a competition that was staged in year 1… The search to find the best Manchester Tart in Manchester.
The people of Greater Manchester will be asked to put their heart into the tart and enter their homemade creations so that the ultimate Tart of Manchester can be crowned! To enter, budding bakers and trainee tarts should email George@foodanddrinkfestival.com 
On the judging day join us for the annual Forever Manchester Caketober Charity Bake Sale, all proceeds supporting community activity across Greater Manchester. If you would like to bake and donate your wares for the sale contact emmaj@forevermanchester.com
11) JUST EAT AT MFDF
JUST EAT STUDENT SUPPER CLUB
Festival Hub
Monday 2nd October
Ticketed
Just Eat are offering 40 lucky students a chance to join them at The Hub at Manchester Food and Drink Festival 2017 on Monday 2nd October.  The evening will start with a drinks reception, followed by a complimentary 3 course dining experience with Didsbury's finest Indian restaurant, Indique, as well as live entertainment.  
All you have to do to be in with a chance of winning tickets for you and three friends for this fabulous event is email hello@foodanddrinkfestival.com from an accredited college or university email address with your name, age, telephone number and the name of the Indian Restaurant providing the food for the evening. 
JUST EAT STREET KITCHEN AT THE HUB
Festival Hub
28th September – 8th October
Free
As official Online Takeaway Partner for MFDF 2017, Just Eat is proud to offer the hungry citizens of Manchester more than 700 Just Eat restaurant partners to choose from, and what better opportunity to showcase them than by bringing them to the Festival Hub in Albert Square?
So, with the help of their customers, they've selected some of their highest rated restaurants to serve up quality food for all budgets, tastes and appetites.
Just Eat welcome The Pasta Project, Oishi Q, Strip Health, Italian Express, Kings Treats and Naasouk to the Festival Hub, throughout MFDF, at their own pop up Just Eat kitchen!
12) BOOKATABLE FESTIVAL FEAST
Across the city
28th – 9th October
Book Online
As the exclusive booking partner of Manchester Food and Drink Festival 2017, Bookatable helps foodies to discover and book the city's best restaurants.
This partnership celebration of dining out takes place across Manchester's favourite restaurants - you'll find festival menus at your chosen high street spots, as well as the city's most luxurious fine dining establishments.  Whether you're a seasoned Manchester foodie looking to return to your favourite restaurant, or a dining-out newbie on the hunt for an amazing-value experience, there's special MFDF/Booktable menus out there for everyone.
Explore the menus here.
13) MFDF GALA DINNER AND AWARDS
The Principal Manchester
9th October
Ticketed
The Manchester Food and Drink Festival Gala Dinner and Awards will be taking place on the 9th October and will be returning to the beautiful and iconic Principal Manchester. The most prestigious food awards in the North will be distributed and this year there'll be 20 awards for 20 years!
14) CITY LIFE MUSIC STAGE
Festival Hub
28th September-8th October
Noon-11pm
Free
If you thought the Manchester Food and Drink Festival was just about eating and drinking, think again. As ever, MFDF sets itself apart from the rest with its programme of fantastic live music all the way through the event.
Across the 11 days of the Hub, you will be able to tune in, dance or just chill-out, to an eclectic mix of amazing artists.
Names to whet the appetite include:


Christian Burrows - Boltonian X Factor sensation whose debut single Two Again was a big hit

Ben Williams  - Manchester's hotly tipped singer-songwriter

Corella - new indie heroes

Lily Jo -  pop soul singer-songwriter

Dave Fidler – local singer-songwriter legen.

'The Chanteuse' aka Manchester's finest vocalist and MFDF stalwart Lucy Hope - performing a live world premiere, her new, french-language album, Sings Modiano. A chanson extraordinaire, the album is superb listening. It's being released in both the UK and France. www.thechanteuse.co.uk

Scruff of the Neck - The North's coolest promoters present a fascinating night of stunning music, featuring the powerful hooks of Cosmo Calling, the energetic Opera Comic, soul sensations Deliah and groove laden Maisie Johnson.

Joel Valentine & Katy Alex – Merseyside singer-songwriter with great pop hooks.

Whitley Ruchea – a unique urban DJ from the Midlands.

Audio Beats/Whoever and the Somethings -  The Northwest's best covers dance bands. Expect Stevie Wonder to Fleetwood Mac, Chaka Khan and The Roses with some help from some top DJs too.
Full programme available here.
15) MAD COCKTAIL WEEK
Hula, Rosylee, The Fitzgerald, Walrus and Tusk
28th September- 8th October
From Noon
Ticketed & Free.
Shaking things up with a celebration of all things cocktail, MAD Ltd will be hosting a series of pop-up events, bespoke serves and exclusive discounts across their five Northern Quarter bars; Hula, Rosylee, The Fitzgerald, Walrus and Tusk.
Full details on here.
16) CHAMPAGNE AND OYSTER TASTING @ RANDALL AND AUBIN
Randall and Aubin
28th September
From 7pm
Ticketed
Learn more about the decadent world of Champagne. Let Manchester's newest French brasserie, in conjunction with HallgartenDruitt & Novum wines, enlighten you at an exclusive evening
of bubbly and bivalves.
Book early to secure a place as spaces are limited.
Get your tickets here.
17) TAKE A JOURNEY THROUGH SPAIN WITH IBERICA  
4th October
From 6pm
Ticketed
In a revelatory hands-on Spanish experience, kick off with a chance to mix your own G&T and, of course drink it before learning from head master carver Sergio Escudero all about Jamón Ibérico through a live carving demo while enjoying this delicacy with a glass of bone-dry Manzanilla. After these two welcoming treats enjoy head chef Nacho Llinares' bespoke menu including tapas and a dessert to share, with Paella Valenciana as a main course. Valencian style is dry, with crunchy, caramelised socarrat – the team will show you how to scrape it from the pan bottom
to unleash incredible flavours. To match these dishes– two special glasses of boutique Spanish wines.
Get your tickets here.
18) GOATOBER – KOFFEE POT
The Koffee Pot
8th October
Ticketed
Darren Goodwin (Grafene), Mary-Ellen McTague (Manchester Art Gallery Café), Richard Sharples (Hispi) and James Whetlor (Cabrito Goat Meat) are cooking a four-course menu using kid goat meat or dairy in every dish. It's part of an entire month nationwide devoted to celebrating dishes made from male billy goats, which are usually discarded at birth as a waste product of the dairy industry.
Get your tickets here.
19) THE MUSIC QUIZ AND MANCHESTER CHALLENGE
Festival Hub
8th October
Free - reservation of place online required
Guide and author, Jonathan Schofield, offers 40 questions and challenges on Manchester, Greater Manchester and their people, places and events. Includes a Musical Challenge, sung intros round by Lucy Hope. Fabulous prizes plus the chance
to buy the new extended guide to Manchester by Jonathan and other Manchester Books Ltd publications. Short break in the middle with live music from Lucy!
Get your tickets here.
20) BASQUE BANQUET
Baratxuri Y Comedor, Ramsbottom
3rd October
Ticketed  
Whole fish and big cuts of meat roasted and chargrilled in the pintxos masters' new Pereruela wood-fired oven. All Asado (roasted) dishes are cut and served at the table with sides and rescoldo veg cooked in the embers of the fire.
Tickets from the bar or emailinfo@levanterfinefoods.co.uk
---
« HISPI MEETS THE REFUGE BY VOLTA AT THE MAYFIELD BANQUET | Win 6 meals at 6 restaurants with Bookatable! »
Posted on 6 September 2017