News
Manchester Gin Goes Virtual with Stay Home Gin Tastings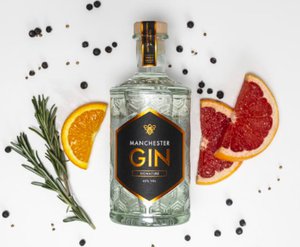 Award-winning distillers, Manchester Gin, have announced a Stay Home Tasting Experience for gin-lovers to enjoy from the comfort of their living room.
In a move to make Saturday nights in a little more fun, the interactive experience will allow gin drinkers from Manchester and beyond to experience the distillery's 5* rated guided tasting without stepping outside.
Since opening its public distillery in September last year, Manchester Gin have welcomed thousands of people through its doors to drink, dine and distil in its impressive Grade-II* listed arches in the heart of Manchester. The Spirit of Manchester Distillery, home to Manchester Gin and premium cocktail bar and restaurant Three Little Words, is rated the 'Number One Thing to To in Manchester' on TripAdvisor after just six short months launching due to its immersive guided tours and gin-making classes.
The one-hour "Stay Home" tasting experience will be live streamed on Manchester Gin's social channels next Saturday 11th April at 8pm for gin-lovers to tune in and learn about the process and botanicals behind their internationally recognised range. Founders and Master Distillers, Seb Heeley and Jen Wiggins, will lead the tasting, which will give viewers an insight at the brand's history and its award-winning products.
The Ultimate Stay Home Gin Tasting Experience can be purchased from Manchester Gin's website and includes four 50ml bottles of gin, four perfectly paired tonics, two custom Manchester Gin glasses and two tasting guide sheets, which includes tasting notes for each gin. The set is available for £40 (with a retail value of £48) and includes enough for two people to partake in the tasting - or four delicious double G&Ts.
For those who already have a healthy selection of the Manchester Gin range, the live stream can be accessed for free, and viewers will be able to submit questions about their favourite gins, the perfect pairings and cocktail ideas.
Manchester Gin are also offering 20% off online orders to key workers and have created the "Gin Lockdown Package", which includes three full size bottles of Manchester Gin, or Manchester Spirit Vodka, along with six paired tonics for just £95. Free delivery is available across the site on orders over £30. 
To receive the tasting set in time, customers must order by midnight on Wednesday 8th April as the live stream will take place on Facebook and Instagram at 8pm on Saturday 11th April.
---
« Open Kitchen MCR's Amazing Coronavirus response: Get busy and keep cooking! | Restaurants and delivery services you can order online »
Posted on 8 April 2020