Event
Le Social present The Low-Down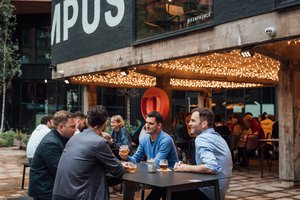 A celebration of low and no alcoholic drinks, hosted in a secret location at Kampus
In collaboration with Stores Supply and Muri Drinks
A bar without booze sounds like an oxymoron, but Le Social invite you to a secret location in Kampus to drink the bar dry. A tasting event of the very best in low and no alcohol drinks.
Known for its unique selection of natural and organic wines, Le Social also serves beers, cocktails and aperitifs inspired by long summer evenings on the continent, served canal-side, in the heart of the city centre neighbourhood. The team has developed an exciting soft drink selection in collaboration with Copenhagen's MURI Drinks.
Le Social was founded by wine professional Jérôme Boullier during lockdown. Jérôme provided a door-to-door wine delivery service with all profits given to charity – the business grew rapidly into a specialist retailer and wholesaler of organic and natural wines, working closely with the likes of General Store, Common & Co, Butcher's Quarter and Feel Good Club to name a few.