Event
Gola Treasures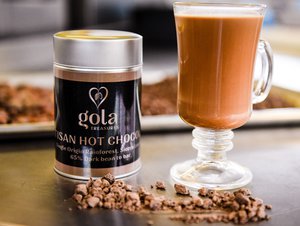 Gola Treasures started as a sustainable bean-to-bar chocolate company,
working with farmers in the Gola Rainforest to source ethically grown cocoa
beans. The company was built on the belief that these suppliers deserve to be
paid for their experience and expertise - and a commitment to pay prices that reflect that. Using the beans from the Gola Rainforest, I handcraft luxury plant-based chocolate products.  For example glossy bonbons, swirled chocolate cookie dough, dark chocolate 70%, coconut milk chocolate, loaded chocolate bars.