Event
Root2Ginger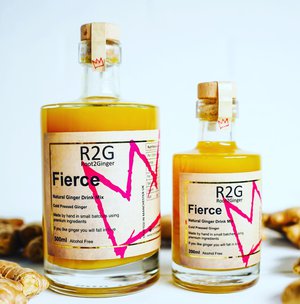 Root2Ginger is a family business founded by Mancunian Deanne who has been making ginger drinks for over 30 years influenced by her Jamaican heritage.   Root2Ginger began trading in 2021 following Deanne being encouraged by family and friends to sell the drinks she had been gifting them for special occasions over several years.   The family began trading at Alty Market in May 2021 and the drinks have gone down a storm with the alcohol-free market as they provide an adult choice to those who want an alcohol-free option and also those who want to have the health benefits of ginger.  Throughout Covid people wanted to build their immune systems and or recover and the drinks were popular as customers felt the benefits of ginger for themselves.
The drinks are hand batched in small quantities using premium organic ingredients including cold pressed Peruvian ginger, raw can sugar, lemons and spices.   They are diluted to make a great ginger drink or act as excellent mixers.  We provide 200ml an 500ml flint glass bottles.
We have four flavours Fiery, Fierce, Spiced and Mint.