Festival Hub
Events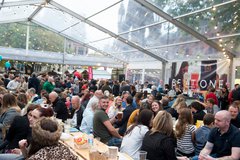 The Festival Hub will be taking over Cathedral Gardens for the second year for MFDF 2020!
Visitors to The Festival Hub this year can expect a newly designed site with exciting new structures, live experiences and the biggest programme of events yet. Returning will be the Dining Dome – the amazing spherical foodie palace and once more, it will be the location for a host of specially curated banquets, supper clubs and food parties.
You can also expect dozens of the best street food heroes who will be serving up their delicious international cuisines alongside some of the most exciting restaurant and drinks brands in the City. The live music stage will also be back with its customary diverse programme of performers.
Open from 12noon - 11pm daily and with entry completely FREE, this is Manchester's food destination of the year so make sure you're part of it!
There are no events to display.