News
Hollands Pies Become MFDF Sponsors 2010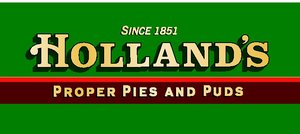 It is a truth universally trumpeted that the way to a man's heart is through his stomach: we agree. Which is why Holland's Pies are so apt a choice as major sponsors for this year's annual Manchester Food and Drink Festival. For 12 happy years, the Festival has continued that great Manchester tradition of taking the pleasure of food and drink seriously. And for nigh on 160 years, Holland's have been positively loopy about the craft of making fine pies, with 370 people always beavering away at Holland's Lancashire HQ to produce not just the original, but the best pies in the North West (as fans of their golden pastry, sumptuous fillings and perfect seasoning will attest).
Leanne Holcroft, Brand Manager of Holland's Pies is quick to express her delight, "As an integral part of life here in the North West for nearly 160 years. We are delighted to sponsor such a well-established, popular and polished festival. Manchester is regarded as one of the premium culinary cities in the UK and this Festival provides an opportunity to shout about everything that's excellent in Greater Manchester. If we can help to bring about an innovative festival that highlights the variety of food and drink that is produced and enjoyed in this region, then we will be more than happy. This sponsorship reflects the importance Holland's place on delivering great tasting, high quality pastry products that North West consumers want to eat again and again and again!"
You could say it is something of a marriage made in heaven, and together, it just goes to prove that whilst Manchester Food and Drink Festival may be the largest and highest profile event of its kind in the UK, it certainly knows where its heart is.
Starting on October the 1st 2010, the twelve day long celebration seems set to outdo even its past lauded efforts, with a more expansive and richly sourced food and drink market in the centre of the city, a 'food cruise' along the river Irwell and fabulous home for it's finale in the form of the Albert Square Pavilion. As Phil Jones, Director of the Food and Drink Festival savours, "The Manchester Food and Drink Festival May be thirteen years old, but it promises to be tastier than ever with a feast of food and events to suit all people and all palates" - no mean feat when so many people are awakened to the joys of food and drink, and their heart-seeking powers.
With a 65% share of the market, and an unrivalled reputation; nearly 100% of people know of the famous pies; Holland's are as loved as they come. Quite simply, the sponsorship of an authentic brand with a proud heritage.
The Manchester Food and Drink Festival 2010 sponsored by Holland's Pies begins 1st October and runs ''till the 11th October. Keep your eyes peeled for more details, including this year's full programme.
---
« MFDF 2009 Award Winners Announced! | MFDF Launch Took Place at the Iconic Mark Addy »
Posted on 29 April 2010