News
MFDF 2012 Feedback Survey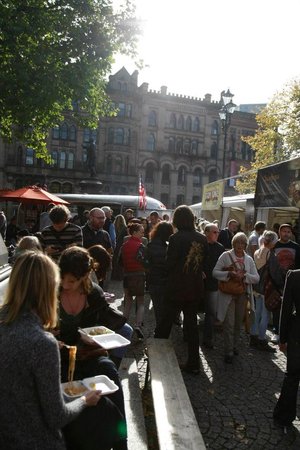 It's time to reflect on the 18 days of food and drink adventures that hit the city last month! It's fair to say you flocked to the Festival Hub in your tens of thousands (150,000 of you to be more precise!) to enjoy the fantastic array of street food traders, ciders, beers, producers and cocktails galore.
Check out our image gallery here to see if you can spot yourself!
WIN A STAR PRIZE WITH THE BIG FESTIVAL SURVEY
What did you think of this year's Festival? What did you enjoy most? Which events did you attend? What could have been better? Where do you think the Festival should go from here?
If you'd like to tell us, we have a short 10 question feedback form which should take approx 5 minutes to complete.
As a thank you, we will enter all those people who complete the feedback into a competition to win a dinner cooked in your own home by Exec Chef from the Mark Addy Mr Robert Owen Brown.
Click here to complete the feedback and enter the competition to win the fabulous prize.
---
« People's Pint Winner Announced... | Become a Sponsor »
Posted on 20 November 2012