News
MFDF LIVE ENTERTAINMENT PROGRAMME ANNOUNCED!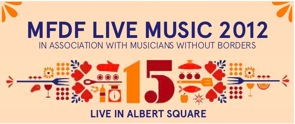 Thursday 27th September
From 7pm
In association with Musicians Without Borders
The Natural Vibes: Fantastic young reggae band from south Manchester
Extra Love: Manchester's top reggae band feat. Kuntri Ranking and Angel on vocals
Friday 28th September
From 5.30pm
Pete Rootsman Band: An evening of vintage soul, rock and Americana covers. Everybody's favourites; unbeatable!
Saturday 29th September
From 12.30pm
Pete Rootsman, Rickie Syrett, Tracey Brown: an afternoon of the best in acoustic Manchester music.
From 7pm
The Alphabets: Manchester's best live soul and funk band with special guest DJs.
Sunday 30th September 
From 1pm
Chorlton Folk Club presents: Jo Roberts and Mike Seal, T.G. Elias, Mark Greer and Clive Mellor, Dan Bridgewood Hill. An afternoon of Americana, guitars, George Formby and much more, from the best of the legendary Chorlton collective who give folk clubs a new Mancy meaning.
Thursday 4th October 
From 6pm in the Festival Pavilion
In association with Musicians Without Borders
Stone Flowers: An uplifting performance by torture survivors including original songs in English, Arabic, Farsi, Kurdish, French and Kikongo, influenced by folk, jazz and classical music.
Balkanite: A wild concoction of live Balkan Beats, Gypsy Soul, Middle Eastern surf and Nomad Ska with music from Gypsy Hill, the Organgrinder, Behar, and Satellite State Disko DJs. Indulge in the delights of the Balkans by feasting on Rakija and Baklava. NB There is a ticket price for Balkanite. Price £8 adv £10 on the door. Available here.
Friday 5th October and Saturday 6th October 
From 12.30pm
OKTOBERFEST: The Brasswurst Bavarian Beer Band: Manchester's very own authentic "Oktoberfest Oompah band". Expect Lederhosen, Steins of beer and damsels in Dirndls.
Sunday 7th October
From noon
Bavarian DJs feat. Fraulein Olivia Malöne and Herr Phil Jönes
From 2.30pm
MFDF 15th Birthday Party, feat. John Bramwell (7pm), Mike Garry (poet), DJ John Robb (Goldblade and off the telly), Frazer King (best new band in Manchester) and Get Fit with Ruth Goulding's 'Your Health Roots' + Very Special Guests. As a soundtrack to the Birdhouse Cake Sale and Tea Party we present the MFDF "One hell of a" 15th Birthday Party and of course we need to drink the bar dry!
---
« Legacy Wines at MFDF | Local Ginger's Comfort Emporium wins British Street Food Awards! »
Posted on 19 September 2012