News
Metrolink Presents 'Food Adventures'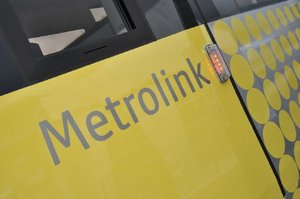 Explore the gastronomic fruits of our region - take the tram and the region is your oyster when it comes to uncovering some of the best food and drink heroes that the Northwest, and the UK, has to offer!
To facilitate your food adventure we've highlighted some of the region's best food and drink destinations around the Metrolink network, and even got special offers from some of the best of the best along the way - meaning you can enjoy splendid food and drink as part of a great value day out. 
Check out the Metrolink MFDF map to see where the tram can take you!
Andrew Nutter's Food Adventure
We asked our region's own celebrity chef, and current MFDF Chef of the Year, Andrew Nutter to tell us about his favourite food heroes, and where his gastro adventure would start and finish...
My food adventure would start in Bury with a trip around Bury Markets to pick up some
true regional sepcialities - lancashire cheeses, freshly baked cup cakes, Eccles cakes and don't think about leaving without a chunk of hot Bury Black Pudding and mustard. 
Then I'd hop on the tram to Whitefield skip down the road to Slattery's - spend 5 minutes just ogglign the window display before entering to sample their amazing range of sweet treats.
Next I'd get the tram to Chorlton, where I'd stop off at Barbakan deli - just follow your nose to find this jewell, and let the sweet aroma of over 50 varieties of fresh baked bread guide you!
Then I'd head into city centre Manchester, get off the tram at Shudehill to enjoy Manchester at it's best - a whole collection of indie bars & traditional pubs. My first port of call would be Luck Lust Liquor and Burn for a bespoke cocktail or 2, as well as a portion of their chicken blasts too - they're to die for!
And of course I'd end the trip at Rochdale, home of my restaurant. At that point its taxi time, only 10 minutes to my place, Nutters Restaurant, for my favourite dish Bury Black Pudding Wontons! A fitting end to a fantastic food adventure..
Andrew Nutter is Chef Proprietor at the acclaimed Nutters Restaurant.
Nutters Restaurant, Norden, Rochdale, OL12 7TT www.nuttersrestaurant.co.uk
Follow him on Twitter @nutsfood
---
« Post Festival Highlight: Manchester Whisky Festival 2013 | Get ready for the 16th Manchester Food and Drink Festival. »
Posted on 10 September 2013