News
Calling all Street Food Traders!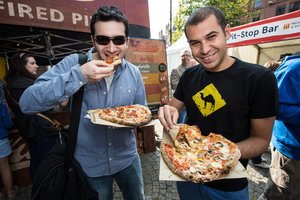 The Manchester Food and Drink Festival, now in its incredible 18th year is set to take over Albert Square yet again, for another marvellous food adventure and we would love to have you involved. 
The Food and Drink Fesitval will take place at the Festival Hub, over 11 days from 10th-20th September 2015. 
The free to attend Festival is situated on Albert Square in front of the Manchester Town Hall. This City Centre square enjoys a fantastic footfall of visitors throughout the year. Last year the festival saw just over 100,000 visitors decend on the Hub. This is an excellent opprotunity to showcase and sell your street food to a discerning audience of foodies. 
If you would like to be part of one of the UK's largest street food fairs, please email concessions@foodanddrinkfestival.com to register your interest. 
---
« Interested in Exhibiting at MFDF 15? | Become a Sponsor »
Posted on 14 January 2015