News
MFDF TO TACKLE PLASTIC BOTTLE WASTE IN MANCHESTER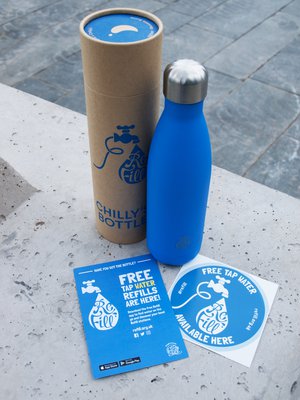 We are delighted to be tackling plastic bottle pollution by joining forces with the national Refill campaign via a bid to sign up to 500 locations in Manchester to refill water bottles free of charge.  This campaign intends to make Manchester the country's most refillable city. 
The Refill Campaignencourages participating cafes, bars, restaurants, banks, galleries, museums and other businesses to sign up to the free Refill app and put a sticker in their window alerting passers-by to the fact they're welcome to fill up their bottle for free. There are already 165 stations in Manchester and MFDF is hoping to sign up 400 more businesses by the time the Festival starts on 26thSeptember making Manchester the most refillable city in the country. 

MFDF has already had a great response to the campaign with 40 food and drink venues signed up so far. 
The average adult buys more than three plastic water bottles every week* - a startling 175 bottles every year per person. In total, some 7.7 billion plastic bottles are bought across the UK each year, resulting in substantial amounts of single-use plastic waste ending up in our oceans.  
 City to Sea, a not-for-profit organisation headed by entrepreneur Natalie Fee, launched the award-winning Refill Scheme in 2015. It's estimated that the scheme, now being rolled out nationwide with support from Water UK and local water companies, will cut plastic bottle use by tens of millions each year, as well as substantially increasing the availability of high-quality drinking water. 
MFDF intends to put Manchester at the forefront of this movement with a huge drive to recruit hundreds of venues between now and the Festival and making Manchester the country's most refillable city. 

MFDF are also encouraging people to ditch buying plastic bottles by selling special MFDF branded versions of the iconic Chilly's re-usable water bottles at a very special price of £15 – usually the world's most effective and fashionable water bottles retail at £20. 

They will be sold in conjunction with I Love Manchester and MFDF are encouraging customers to refill them when they need to at the Refill points.  Participating sites in the city are already displaying stickers that show they are taking part and there will be many more on show in the run up to the Festival and beyond.
Alexa Stratton-Powell, Director of MFDF, said: "The Refill scheme in Manchester already has backing and we want to enhance this by recruiting even more businesses to take part and ensure that Manchester is the Refill capital of the UK.  More and more people are ditching single use plastic bottles and by launching our very own refillable bottle we're able to offer  a practical solution and donate £3 per bottle from sales to the scheme to help spread the word and ensure more and more people refill their water bottle." 
Sarah Irving, Refill Regional Coordinator, said: "Every time we refill a re-useable bottle instead of buying and throwing away a single-use bottle we not only reduce the amount of plastic and fuel being used, we save a bit of money and help clean up our towns and open spaces too. Having MFDF on board will really help us to make a splash and get us on the right path to becoming the most refillable city. If anyone can do it, Refill Manchester can!"
Natalie Fee, founder of City to Sea, the organisation which is the driving force behind the Refill Scheme, said: "We've seen a huge appetite for our Refill campaign across the UK, from individuals wanting to make a difference in their community to national chains keen to offer free refills to their customers. Our Refill app puts the power to stop plastic pollution in people's hands – and now thanks to the water industry we'll be able to help everyone, from local communities to airports, to provide free refills on the go."
---
« MFDF award shortlist announced!
Posted on 26 June 2019