News
WE'RE CELEBRATING 20 YEARS WITH 20 TOP GASTRO ICONS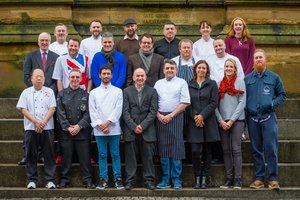 Today we've announced the dates for the 20th anniversary Festival -  We'll be returning to Albert Square from 28th September – 9th October.
This years Festival will be celebrating its 20 years in the city with a special anniversary edition, promising the most exciting programme yet, and one which pays tribute to the remarkable change in the city's gastronomic landscape over that time.
Festival Director, Phil Jones, who founded and staged the first Manchester Food and Drink Festival in 1998 commented:

"We started the Festival as a way to showcase the talent that we had here in Manchester and the northwest, at a time when we were certainly not recognised as a gastronomic city, even by residents of nearby towns and cities never mind London or beyond!
Twenty years on and Manchester is now an international tourist destination with a dining and drinking scene to match. This year's Festival will be a tribute to the hundreds of chefs, restaurateurs, operators, producers and personalities who have made that happen.
We're creating the 20th anniversary festival in collaboration with the biggest, most exciting food community we've ever had and the event will feature people and places who have been around from the beginning to the newest faces on the scene. The programme will blend nostalgia with innovation - expect very special things!"

To mark the announcement of this year's festival, we've collaborated with some of the region's top operators and chefs to pledge the best festival yet. The 'class of 2017' line up iassembled in front of Manchester Town Hall to reflect the diverse talent that makes up the fantastic local food scene. The photographed participants have been chosen to reflect 20 years of MFDF ranging from those who have been involved since the Festival's first outing in 1998 to some of the newest on the scene.
We'll be releasing details of the MFDF events from March onwards.
 There will be a special 20th Anniversary Festival Hub, built on its traditional home on Albert Square, and ahuge programme of extraordinary food events will be staged across the city.  
The festival will culminate in the MFDF Gala Dinner and Awards Ceremony on the 9th October. The most prestigious food and drink awards in the city, they celebrate the very best food and drink establishments across Greater Manchester in a variety of categories.
All operators who think they deserve a place on the Festival stage are encouraged to join in the celebrations! Interested parties should email [email protected].
---
« HOW TO GET INVOLVED WITH THE FESTIVAL | FIRST LINE UP OF PRESTIGIOUS SPONSORS ANNOUNCED »
Posted on 22 February 2017