News
2010 Award winners announced!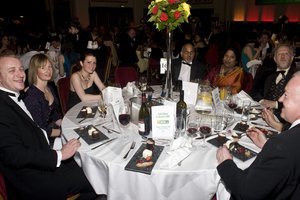 After an amazing 11 days of Festival fun, great weather and some incredible food & drink we celebrated the region's finest with a Gala Dinner & Awards night on Monday 11th October.
After a glamorous six course Gala Dinner at the Hilton Hotel, Deansgate, the Awards were presented to the lucky winners by hosts Becky Want and Matt White with celebrity presenters including Noddy Holder, Justin Moorhouse, Ian Puleston-Davies & John Thomson.
Headline winners were David Gale (Hilton Hotel, Deansgate) for Chef of the Year, Aumbry Restaurant in Prestwich for Restaurant of the Year and Trafford College won the Outstanding Achievement award.
You can see the full list of award winners here
---
« Festival Hub- Live Webcam | View pics from last year's Festival »
Posted on 13 October 2010