News
How to get involved in the Festival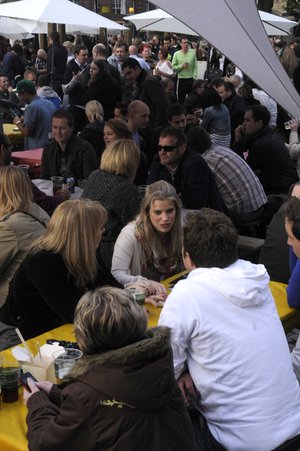 2012 marks the landmark 15th anniversary, a shift in dates to 21st September - 8th October will see the festival extend over a mammoth 18 days, and 3 weekends.
The event has become a national brand leader, and has gained a strong reputation for innovation, inclusivity and quality. The Festival aspires to be world class, creating a diverse programme of food events in an urban environment - from outdoor 'Festaurants' and gourmet dinner parties to community café lunches and school dinners.  
If you are in the hospitality Industry you can get involved by downloading the Ambassador Pack Here. This document is designed to provide regional food businesses with all they need to know about the event, how they can get involved, why they should be involved and what's planned for this year
 If you would like to get hands on experience before and during the festival download the Volunteer Pack Here. We are on the hunt for comitted, fun and enthusiastic volunteers to help make our ' Big Fifteen' birthday celebrations the best yet!
---
« Sponsorship Opportunities - Be a Part of the Food Adventure. | Dates Announced »
Posted on 23 May 2012