News
Sponsorship Opportunities - Be a Part of the Food Adventure.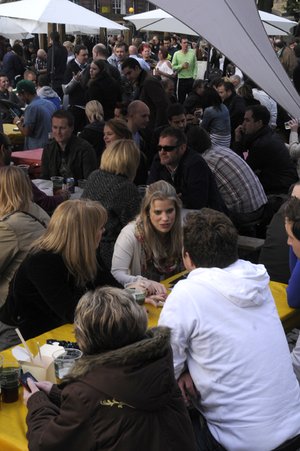 Manchester Food and Drink Festival is the UK's largest and highest profile urban food and drink festival. Established in 1997 - The 15th MFDF will take over the city 21st Sep - 7th Oct. The festival has attracted celebs such as Jamie Oliver, Nigella Lawson, Anthony Bourdain, Fergus Henderson and Hugh Fearnley-Whittingstall.
Sponsorship of the Festival allows your brand, campaign or organisation to communicate 'live' with a diverse but discerning audience, capturing their attention in the context of one of the city's most exciting events. Its a chance to engage with the UK"s second city. Combined with the massive festival marketing platform, PR campaign and networking opportunities, its a smart, fun, engaging, way to promote yourself. Plus its fun - for you, your clients and anyone else you want to invite! 
All partnerships are created bespoke for your organisation with a huge variety of options available. We love working with brands and organisations to create the most exciting partnerships and biggest impact. Please contact us for more details hello@foodanddrinkfestival.com or call 0161 839 3461
Help us make the 15th anniversary MFDF the best yet... 
---
« MFDF 2011 Award Winners Announced plus, the end of another great Festival! | How to get involved in the Festival »
Posted on 21 March 2012