News
The Festival Celebrates Record Year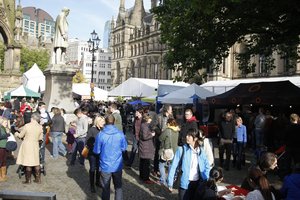 Manchester Food and Drink Festival has reported a record year for its 15th annual Festival, estimating an economic boost of over £2.8million of spend to the city.
This year's festival ran for 18 days in the City Centre attracting more than 150,000 visitors to enjoy the fantastic array of street food traders, ciders, wine, beers, producers and cocktails galore.
Customer research over the Festival reported visitors from across the region, as well as from other parts of the UK and abroad. Customers gave the Festival an average score of 4 out of 5 when it came to their enjoyment, and the majority made their trip to Manchester especially for the Festival. 
Festival Director Phil Jones comments: "We estimate this year's festival gave Manchester a spending boost of over £2 million, made up of not only the spend by visitors to the Festival in the products they buy, but also the surrounding businesses from travel, to hotel stays, to all the suppliers we use to put on the event. Over 200 different businesses are involved in the Festival from marquee suppliers to independent food stalls. We believe that over 700 people undertake paid work through the festival in one way or another, which is an amazing feat in this current economy."
Leigh Wilton from L'Entrecote commented on their involvement in the Festival: "We had a great response from everyone visiting the MFDF, some people knew about us already, however, lots of people discovered us purely from the stall and are now our regular customers.  L'Entrecôte will definitely get involved next year!"
"The Festival lost Council funding last year, and without the support of our sponsors including Metrolink, Booths, Castlefield Clinic, Robinsons, Argent, Manchester Confidential and the Manchester Evening News, it simply would not be possible. We would like to publicly thank all those that play a part for all their help."
Festival Director Siobhan Hanley added:  "In addition to all this the MFDF awards remain  the unrivaled benchmark for discerning food and drink lovers in the region. All nominees ( 70 businesses in 2012) report an immediate uplift in their business, which continues throughout the following year"

Over 15 years it is estimated over 800 Manchester businesses enjoyed the benefits of being nominated for an MFDF award.
---
« Interested in Exhibiting at the Festival | Check Out Who's Going To Be On In Albert Square »
Posted on 14 January 2013