News
Check Out Who's Going To Be On In Albert Square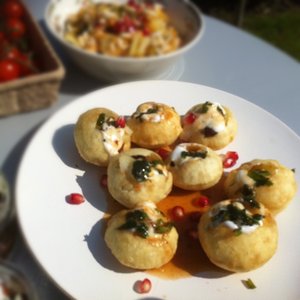 Street food is one of the UK's most vibrant food trends; it's all about restaurant quality dishes at takeaway prices. Take your pick of tasty foods served made fresh to order out of some of the hottest four-wheelers around. There will be two sessions, each featuring different and equally exciting traders so that you can experience as many world cuisines as possible without having to leave Albert Square. As well as national street food treasures, Manchester's restaurants will be getting in on the act too, as we challenge them to create their own versions of street food.
Confirmed highlights in the first session include:
Pizza Peddlers - Pizza Peddlers is a mobile street food business serving fresh pizza out of their vintage Citroën van. Fresh sourdough pizzas will be speedily cooked to order in their wood fired oven using only the best local and seasonal produce.
KuKoos - KuKoos is a mixture of Indian, Moroccan and Lebanese street food focused on delivering tasty, healthy food available to eat all day. Serving delights such as falafel, samosas, a selection of fresh wraps and authentic biryanis to take away.
VFresh - VFresh serves fresh, quick and tasty Vegetarian Society Approved street food for all – here, there and everywhere! Putting a refreshing twist onto vegetarian food by mixing and blending a variety of ingredients and flavours to create their own unique wraps, individual pots and special sides.
Churros Susanna - Vegan friendly and dairy free, Susanna is always dedicated to creating the perfect churro every time for everyone! All churros are freshly cooked with care and served with a warm pot of dipping chocolate for extra yumminess
Margo & Rita - Margo & Rita only cook using the most local produce as possible, using traditional spices to create the most authentic and flavoursome dishes. Their specialty dishes are Pulled Pork Tacos, Cactus Quesadillas and 'Bad Boy' Burritos, all of the food is freshly cooked front of house for the highest level of flavour.
Crêpe Lucette - Crêpe Lucette is a unique and glamorous mobile vintage crêperie, offering a delicious range of both sweet and savoury crêpes. From the classic 'lemon and sugar' to the distinctive 'goats cheese and sweet pepper relish' Crêpe Lucette uses handpicked,  locally sourced ingredients to ensure the tastiest crêpe experience.
Confirmed highlights in the second session include:
Exotic Game by Ank Marvin Ltd - Ank Marvin brings his (exotic) game to the festival this year, serving a selection of rare, premium meats that are all genuinely and responsibly sourced from wild animals such as Llama sausages and Zebra steaks.
Cibo - Cibo will be providing rustic, Venetian food at Albert Square this year offering Venetian Cicchetti and a selection of meatballs. They know the importance of having the freshest, highest quality ingredients, so Cibo make all of their pasta fresh onsite twice a day.
Levanter Fine Foods - Levanter Fine Foods bring their pop-up Paella and Tapas bar back to the festival, cooking fresh, authentic paella from scratch. Aswell as the varied range of paellas on offer there will also be a Jamon Bar offering a selection of delicious artisan cured ham, to be served with a selection of olives and fresh bread topped with their amazing gourmet olive oil.
Zouk - Zouk serves a tasty range of health conscious Indian street food, and will have a variety of lite bites and traditional Karahi's to offer a glimpse into innovative Indian cuisine. Their selection of wraps also includes a vegetarian Paneer Tikka option, all served with salad and sauce of your choice and the traditional Karahi's are available as Lamb or Chicken served with a choice of pilau rice or naan bread.
Spilt Milk - Spilt Milk is a mobile café that prides themselves on their delicious and imaginative food and excellent customer service.  Bringing with them a full fair-trade coffee menu served by fully trained barista's as well as a variety of specialty teas, cold drinks, toasted bagels and their mouth-watering selection of homemade cakes, slices and biscuits.
Castro - Castro is a Southern American street food vendor who'll be bringing their popular sticky Pulled Pork to the square, alongside this Castro will also be serving BBQ beans, shredded beef brisket, homemade slaws, sauces and pickles.
Pancake Corner - Pancake Corner is a Manchester based business passionate about food; they will be serving the finest selection of sweet and savoury pancakes, all 100% fresh and made to order.
Chaat Cart - Chaat Cart's Indian street food is inspired by a childhood in India and travels around South Asia, Chaat is a roadside snack usually sold in India from a cart. All of their dishes are vegetarian, healthy, delicious and made fresh to order. All the vegetables used in Chaat Cart's dishes are organic and locally sourced.
Fire and Slice - Fire and Slice Pizza serve freshly prepared Artisan wood fired Pizza's cooked in a clay oven to give them that rustic, handmade touch. Their menu changes accordingly with the seasons, using only the finest quality ingredients to achieve the best flavours. In addition to Pizza's, Garlic Bread and mini Calzones will also be available as specials.
---
« The Festival Celebrates Record Year | The MFDF Awards Shortlists Are Soon To Be Announced! »
Posted on 12 July 2013