News
MFDF 2014 Brochure Available Online NOW!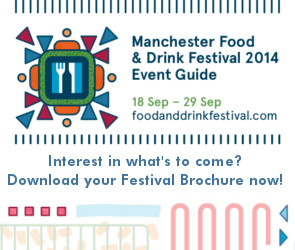 Make sure you pick up the Manchester Evening News thorughout Septmeber for your copy of the Festival Brochure and start planning ahead for what will take your fancy throughout the Festival! Vendors across the city will be handing them out with the paper on your way home from work but if you cant wait that long click here to download the brouchre online now!
Happy browsing! 
NB: All vouchers in the brochure are only usable from a hardcopy brochure and printed versions will not be accepted. One voucher per customer.
---
« Hotel Football do live cook-off at MFDF | Manchester Food and Drink Festival 2014 Good Food, Good Access, Good Time »
Posted on 3 September 2014