News
2015 Festival Highlights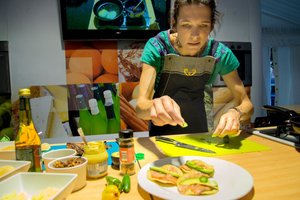 Our 2015 Highlights!
You'll be well aware that lots of interesting events and tasty treats were rustled up during MFDF and that there's far too many for us to pick a flat out favourite. Just for you, we've compiled a wee list of some of our own ​highlights that we hope you managed to get a peak ​at.. 
An incredible​ FRINGE FESTIVAL brought food events across the whole of the city. From Banquets under a Whale to China Town Treasure Hunts, venues across the city threw themselves into some serious culinary celebration.
THE GREAT MANCHESTER BAKE OFF  produced some eye bogglingly beautiful cakes, with our winner's Stone Roses Cake a wonderful Baking Tribute​ to Manchester!
Let'snot forget all of our talented and tasty CHEF DEMOS featuring the likes of ​Olia Hercules and Thomasina Miers. Upstairs in the Town Hall, THE BIG INDIE WINE FEST was overflowing with vino fun and the CHILLI & TEQUILA FEST brought the heat to Albert Square. LIVE MUSIC kept us all dancing and STREET FOOD kept us all fed. To round it all off, we crowned Manchester's food royalty at our annual GALA DINNER & AWARDS. 
2015 Fun Festival Facts...
Ever wondered how many gin & tonics get sold at MFDF? Probably not, but this year it excelled 7,000 and we think that's pretty noteworthy. Didn't Fever-Tree do a spiffing job!
Through the gates in Albert Square, 90,000 of you popped in for a feast. We had 33 traders to feed you all and we'd lined up 48 events to keep you entertained. It would have been impossible to get through it all, but we know you all gave it a good go
---
« Complete Our Survey And ​Win a 6 Course Meal for 2 at The French! | Interested in Exhibiting at MFDF 16? »
Posted on 5 October 2015