News
MFDF to welcome Deliciously Ella to the City this Autumn!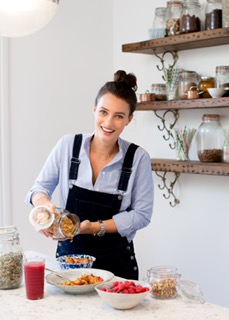 Award-winning cookery author and entrepreneur Ella Mills will be appearing at this year's Festival.  
As part of our 20th anniversary she will be hosting two ticketed pop up banquets (a lunch service and a dinner service) on Saturday 30th September at the Festival Hub on Albert Square.  

Deliciously Ella has three deli sites in London, which are well known for serving her delicious, natural recipes. Ella will be creating her very first Manchester version of her delis on Albert Square and the banquets will serve up a host of her trademark dishes.
In between the two banquets there will be a Deliciously Ella Q&A event and book signing for the public to attend. Visitors will also be able to sample her range of food as the team will also be roaming round the Festival Hub sampling Deliciously Ella energy balls throughout the day.  
Ella Mills is famed for her popular blog, deliciouslyella.com, and is a champion of eating well. Her first book was published in January 2015 and has been the best selling debut cookbook ever in the UK and a NY Times best seller.  She has since released a further two best selling books, created a #1 app, and with her husband, opened three delicatessens in London, as well as launching a product line across the UK. 
Commenting on the festival Ella Mills said: "I'm really excited to bring our delis to Manchester - it's the first time we've taken the team to another UK city for an event, so it's really special for us.''
Phil Jones, Festival Director, added: "Ella is world renowned for her work and it's a real coup for the Festival's 20th anniversary that she has decided to bring a pop-up banquet for the first time to us here in Manchester.  I personally am really looking forward to welcoming Ella to the city, and sampling some of her fabulous food."
Tickets will be on sale soon!
---
« Nominations are open for MFDF Awards 2017 | FIRST PROGRAMME ANNOUNCEMENTS FOR MFDF17 »
Posted on 27 April 2017