News
FIRST PROGRAMME ANNOUNCEMENTS FOR MFDF17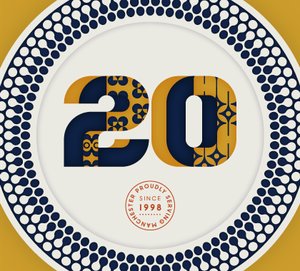 The 20th birthday edition features an extraordinary programme, which will welcome a wide selection of local, national and international chefs and brands to the city, and take over some of Manchester's most exciting, historic and even forgotten, locations.  
There will be a jam-packed festival of Pop Up Restaurants at the Festival Hub; live cookery; food parties; unique banquets; an incredible programme of events across the city's best restaurants; brand new beer bars; dark spirit drinking dens, student supper clubs; street food and a whole feast more.
PROGRAMME SCHEDULE

THE FESTIVAL HUB  
Albert Square
28th September – 8th October
FREE
The heart of the action, the Festival Hub, will remain at its traditional home on Albert Square, and will be a 'better than ever' bespoke, pop-up food village, open from 12noon – 11pm daily! As ever the Hub is free and fantastic, with a whole new design, layout and some exciting additions too.  In situ throughout the Festival will be the city's best mix of street food traders (from Manchester and beyond), Vin Van Voom Wine bar, the MFDF live music stage, the MFDF Live Cookery Theatre, a brand new beer bar focused around the best Manchester brews, and the biggest programme of pop up events, masterclasses and workshops yet.


MFDF @ MAYFIELD
Mayfield Depot
30th September – 7th October
Ticketed
Manchester's abandoned railway station, and one of the city's most jaw-dropping spaces, is the location for MFDF's 20th Birthday Banquets.

Breathing new life into this forgotten space, Mayfield will be transformed for the Festival into an extraordinary dining room. A unique, one-off chance to eat and drink in an awe-inspiring, historic, giant of a Manchester landmark.  
Saturday 30th September – MFDF & Tampopo 20th Birthday Party
Authentic, independent Pan Asian restaurant is 20 this year too. These two iconic Manchester food brands will be celebrating their joint birthday together the only way that both know how…with one great big gastro birthday party in a magnificent location. Expect a hedonistic mix of fabulous food, full moon fun and Manchester icons.

Thursday 5th October – Hispi Meets The Unabombers. 
A collaboration between food and drink innovator, Gary Usher, and club alchemists-turned-restauranteurs The Unabombers, this huge banquet-come-food party will bring together 2 of the hottest food brands in the north – The Refuge and Hispi – along with club pioneers The Unabombers.  A completely unique food experience awaits.

Saturday 7th October - Thomasina Miers: Day of the Dead
Forget the infamous "Spectre" opening scene, Thomasina Miers, the red hot Mexican food entrepreneur, brings a new gastro take on the infamous 'Day of the Dead' with a Mexican banquet every bit as fantastical as the venue in which it's taking place.
GUEST CHEFS AND STARS 
The Festival will be welcoming the biggest roll call of acclaimed chefs yet- here's all the names at a glance:


Deliciously Ella:  MaE Deli Pop Up: Festival Hub: 30th September
Award-winning cookery author and entrepreneur Ella Mills will be bringing her MaE Deli brand to Manchester via her first ever pop up event outside London.

Gary Usher: Hispi Meets The Unabombers: Mayfield Depot: 5th October
Food innovator Gary Usher of acclaimed eateries Sticky Walnut, Burnt Truffle and Hispi will be taking over historic venue The Mayfield Depot alongside The  Unabombers for a night of food, drink and music to remember. See above.

Matt Nutter: Vegan Banquet: Festival Hub: 5th October
The man responsible for Stockport being labelled one of the UK's best food suburbs will be hosting a 7 course vegan tasting banquet. See below.

Simon Shaw: Spanish Pop Up Feast: Festival Hub: 29th September
The founder/chef Patron of El Gato Negro will be hosting a truly authentic Spanish pop up feast including modern and traditional Spanish flavours and techniques.

Thomasina Miers: Banquet & Cookery Demo:  Mayfield Depot and Festival Hub: 7th October
As well as hosting the Mayfield Banquet as above, Thomasina will be live at the Festival Hub Cookery Theatre performing a cookery demo and signing copies of her new book 'Home Cook by Thomasina Miers'.   

Nisha Katona: Cookery Demo & Book Signing: Festival Hub: 7th October
Owner of Mowgli restaurants, TV personality and Food Writer, Nisha Katona will be sharing her skills at her first MFDF cookery demo, and will be signing copies of her new book 'The Spice Tree'.   

Kwoklyn Wan: Cookery Demo & Book Signing: Festival Hub: 7th October.
Brother of stylist and foodie, Gok Wan, Kwoklyn will be coming to Manchester to demonstrate recipes from his new cookery book Chinese Soul Food and signing copies afterwards.  

Aiden Byrne: Festival Banquet and Demo & Book Signing: Manchester House & Festival Hub: 3rd and 7th October
Festival favourite and one of Manchester's most revered food celebrities, Aiden Byrne will be staging a 6-course tasting menu and wine flight at Manchester House and launching his new book at the Festival Hub with a live cookery demo.

Kate Goodman: Beer and Wine Tasting Masterclass: Festival Hub: 6th October
Bringing together beer and wine at the festival, Kate is teaming up with Manchester brewing legends, Cloudwater.  See below.
POP UP RESTAURANT FESTIVAL @ FESTIVAL HUB
A whole week of pop up restaurants will be staged at the Festival Hub presenting unique opportunities to dine with some of the region's most exciting food heroes right at the heart of the Festival…  
Friday 29th September – Festival Hub
Simon Shaw Spanish Feast
Ticketed
Chef Patron at El Gato Negro, King St. Simon Shaw will be hosting an exclusive, authentic Spanish evening for 50 special guests in the Festival Hub on Albert Square.
Saturday 30th September – Festival Hub
Deliciously Ella MaE Deli Pop Up: 
Ticketed
Lunch and dinner service banquets will be taking place at the Hub by Ella Mills.
A free Deliciously Ella Q&A and book signing will also be taking place at The Hub at 4pm.
Monday 2nd October- Festival Hub
Just Eat Student Supper Club.
Ticketed
Just Eat will be teaming up with the Manchester Universities and some of their best restaurant partners to serve up a take away tasting menu!
Tuesday 3rd October – Festival Hub
Sugo Pasta Kitchen
Ticketed
The Sugo brothers will be bringing their acclaimed pasta kitchen all the way from Altrincham to the Festival Hub, for one night of pasta and wine pairing in the city centre!
Thursday 5th October– Festival Hub
Matt Nutter from Allotment - Vegan Banquet 
Ticketed
Allotment is one of the most exciting culinary destinations to hit Greater Manchester and its rave reviews are testament to the talents of Matt Nutter and his team.  The vegan banquet will give an insight into just how delicious the menu is using locally sourced, high quality vegan and gluten free food like you've never tasted before. The seven-course vegan tasting banquet will include his take on a 'Vegetable Grill' for main and a playful shot at tea and biscuits for dessert.
MFDF BIG INDIE WINE FEST
Manchester Hall
6th & 7th October
Ticketed
One of Manchester's most well known buildings, located at the gateway to Spinningfields, Manchester Hall is a Grade II listed building that has been transformed into a stunning and unique space.  It will be hosting this year's ' Big Indie Wine Fest' which returns to the Festival as one of the most popular events.  With an extra special bonanza of independent wine merchants bringing the highest quality exclusive wine this event is one not to be missed.  Serving new wines from Croatia to independent French wines the event will also host a session of masterclasses including a wine tasting masterclass by the BBC's Kate Goodman.
FEVER TREE GIN GARDEN AND THE DARK SPIRIT DEN
Festival Hub
28th September – 8th October
FREE
An all new gin garden will be hitting the Festival, with a new addition of the Dark Spirit Den. The Den will host a programme of live entertainment and Fever Tree will be serving up their new dark spirit mixers range including cola, ginger ale and ginger beer.
A PERFECT MATCH – WINE AND BEER TASTING WITH FOOD PAIRING BY RESERVE, CLOUDWATER AND WOLF HOUSE KITCHEN
Festival Hub
6TH October
Ticketed
BBC star and founder of Reserve winesKate Goodman meets Cloudwater Beer extraordinaire, Paul Jones. One of the key figures behind Manchester's micro beer boom, Paul will be teaming up with Kate for the first time to host a fascinating evening exploring the cultural and gastronomic differences between wine and beer alongside the best food pairings for each.
20 YEARS OF BEER
Festival Hub
7th October
Ticketed
Connor Murphy from MCR Beer Week and Paul Jones from Cloudwater will be teaming up with some of the best brewers in Manchester to give an insight and tasting of the past 20 years of beer in Manchester. From the 'big family' breweries to the explosion of independent microbreweries, which have become one of Manchester's globally famous outputs in recent years, this tasting will be a 20 year commemoration of the finest, most fabulous brews!
JUST EAT LOCAL LEGENDS KITCHEN AT THE HUB
Festival Hub
28th September – 8th October
Everyone's favourite 'go to' food delivery service, Just Eat, will partner with some of its most popular restaurants who will bring their own versions of street food to the Festival.  From sushi to sweet treats there will be an amazing choice of the latest in street food flavours and, as you'd expect from Just Eat, it's all supplied by local food-to-go legends.
BOOKATABLE FESTIVAL FEAST
Across the city
28th – 9th October
Book Online
The Bookatable Festival Feast will be a series of limited edition, bespoke dining menus, created by Manchester's restaurants especially for the Manchester Food and Drink festival in association with Bookatable.  Confirmed restaurants include The French, Hawksmoor and Harvey Nichols.
MFDF & MCR BEER WEEK
Across the City
28th – 9th October
Free and ticketed.
MFDF are teaming up with MCR Beer week to create a programme of beer focused events to run throughout the Festival in some of the best bars, pubs and breweries across the city!
MANCHESTER TART OFF  
Festival Hub
Sunday 8th October
FREE.
In celebration of 20 years of MFDF, the Festival are resurrecting a competition that was staged in year 1… The search to find the best Manchester Tart in Manchester.
The people of Greater Manchester will be asked to put their heart into the tart and enter their homemade creations so that the ultimate Tart of Manchester can be crowned! Details on how to enter will be revealed soon and to find out more email George@foodanddrinkfestival.com
THE FESTIVAL FRINGE
Various Locations
28th September – 8th October
Various prices/some free.
As well as the core Festival events mentioned so far, there'll be a whole host of other wild and wonderful food events across Manchester's spectacular restaurants, bars, cafes, delis, museums and more. The full Festival Fringe programme will be announced over the coming months.  Participating venues include Manchester House, Harvey Nichols, Hawksmoor, Gusto, Epernay, Stockport Foodie Friday, Australasia and many more.
GALA DINNER AND AWARDS
The Principal Hotel
9th October
Ticketed
The Manchester Food and Drink Festival Gala Dinner and Awards will be taking place on the 9th October and will be returning to the beautiful and iconic Principal Hotel. The Awards shortlist will be announced on Thursday 8th June.

Festival Sponsors include:
Brooklyn Brewery
Poretti
Shed Head
Just Eat
Bookatable
Fever Tree
Vin Van Voom
Manchester Evening News
Caterer.com
The Principal Hotel
Phil Jones, Festival Founding Director commented:
"It only seems like yesterday that we got the first Festival off the ground. It's been part of the city's cultural makeup ever since, growing each year. We're proud to have been on that journey with Manchester's food and drink industry, and to showcase what is now an internationally recognised city and event."
---
« MFDF to welcome Deliciously Ella to the City this Autumn!
Posted on 19 May 2017