News
MFDF 2017 Awards Shortlists Announced!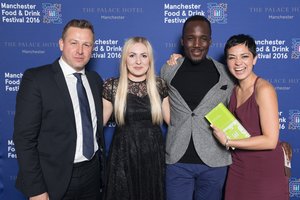 MFDF 2017 Award Shortlists Announced!
We are extremely excited to announce the short list for our MFDF awards 2017!  Now in our 20th year, the Manchester Food and Drink Festival celebrate the innovative and high quality restaurants, bars and individuals who contribute to the hospitality industry in the area. The most sought-after and prestigious awards in the North West, will be given out at our annual Gala Dinner, taking place at the Principal, Manchester on 9th October. These awards are recognised by the industry and consumers alike as setting the standard for the food industry across the country. And we are sure you'll agree, this is an exceptional list of nominees, all worthy of a place in the top 6 of their category.
This year, the 20th anniversary Festival, 20 awards will be presented in 20 different categories.
There are three new awards for 2017 – Best Brewery, Best Vegetarian Offering and Best Sustainable Food & Drink Business, all of which have been added to reflect the growth in these areas and how important they are to the city's food and drink economy and to consumers. Manchester's microbrewery scene has become an international tourism attraction, whilst, as the birthplace of vegetarianism, Manchester is also at the heart of the current trend towards a meat free lifestyle. The Best Sustainable Food & Drink Business award is born out of the Festival's ambition to support and recognize commitment to environmental and ethical food and drink practices  - something which is increasingly on the agenda for consumers in the UK, and an area that MFDF are keen to pioneer. In Manchester.  
The shortlisted venues below have been officially nominated for an MFDF award by the MFDF judging panel that comprises the region's leading food and drink critics and experts.  We now hand the reins over to you, the public.  Click here to vote for your your top choices. 
 The winners will be decided by public votes that will be combined with scores from the judging panel obtained via mystery shop visit.
 Phil Jones, Festival Founding Director said: 

"We are celebrating 20 years of the Manchester Food and Drink Festival. The award nominations clearly showcase the fantastic talent and innovation that is here in Manchester. Over 20 years we have nominated approximately 750 different outlets across Greater Manchester! Deciding on the final shortlists can be a really tough job because of the sheer volume of quality, creativity and talent that is out there.  We are well and truly spoilt to have so many of brilliant and diverse venues on our doorstep. What's happened over the past 20 years is phenomenal and these awards are the benchmark that showcase that development to the region and the nation!"
To view the shortlists and to make you vote CLICK HERE 
You only have one vote so make yours count!
---
« FIRST PROGRAMME ANNOUNCEMENTS... FIND OUT WHAT'S TO COME! | THE MAYFIELD DEPOT IS THE VENUE FOR THE PARTY OF THE YEAR – MFDF AND TAMPOPO'S JOINT 20TH BIRTHDAY BASH! »
Posted on 15 June 2017