News
2018 Festival dates announced and we want to hear from YOU!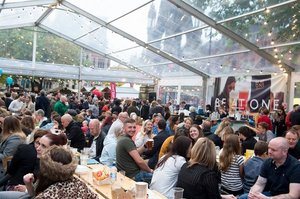 Food lovers are advised to clear their diaries from 27th September – 8th October, as we're pleased to announce that MFDF will be taking over the city and surrounds for the 21st annual Mancunian eating and drinking bonanza.
The MFDF Gala Dinner and Awards will be taking place on the 8th October. The North's highest profile and most coveted food and drink awards are back in 2018 with 20 categories presented from restaurant of the year through to best beer! 
After celebrating our 20th anniversary festival last year, we are looking forward to a brand-new chapter of the festival. We are busy cooking up an extraordinary new programme with announcements to start from March onwards.
In the meantime, we would like to hear from Manchester's food and drink lovers, as we're offering an exciting opportunity for the public to have their say on how the next chapter for MFDF unfolds. 
We're inviting anyone who's passionate about food and drink to get in touch with ideas and suggestions for how they'd like to see the Festival develop. We want to hear from YOU!
Any thoughts, comments and suggestions for MFDF's 21st Festival programme should be emailed to hello@foodanddrinkfestival.com
---
« Become a sponsor for MFDF 2018 | 2018 First Programme Announcements »
Posted on 16 February 2018