News
A STELLAR LIVE MUSIC LINE-UP ANNOUNCED!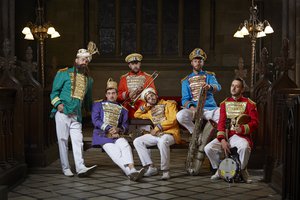 We're delighted to announce our MFDF live music programme announcement and it's a killer line up featuring the likes of, The Slow Readers Club, I Am Kloot legend John Bramwell and New Orleans-style street procession band Mr Wilson's Second Liners.
MFDF is not only about eating and drinking – it's about enjoying it all Manchester-style with a stellar soundtrack of home-grown musical talent.

The City Life live music stage at the Festival Hub on Albert Square will be the spot for this jam-packed programme of eclectic music –all free and all best enjoyed with some stunning street food and a local craft beer.

The Festival will kick off in style with a high-octane performance by the AMAZING Mr Wilson's Second Liners. New Orleans meets 90s club classics, the Second Liners describe themselves as a rave funeral without the body! In New Orleans, funerals are celebrated in style, with noisy brass bands processing through the streets. The main section of the parade is known as First Line, but the real fun starts with the Second Line, those who follow the band to enjoy the music, marching with the musicians and twirling parasols or waving handkerchiefs.  Welcome to Second Lining.: Mr Wilson's expend their collective musical talent paying homage to the diehard days of the Hacienda, 90s club culture and its greatest hero, Mr Tony Wilson.  The vision is an anarchic, street extravaganza, bursting with colour and sound, rallying impromptu raves on street corners and rousing audiences young and old into a joyful frenzy. The perfect euphoric start to a heavenly and eccentric food Festival!
The party continues over the opening weekend with performances from incredible covers outfits like 'Whoever and the Somethings' and Covertones on Friday and Saturday night respectively.

During daylight hours some of Manchester's most talented acoustic artists will be taking to the stage including acclaimed Stockport Trio - The Heyes Sisters, and Charlotte Gallagher.

On Sunday, Manchester legend and XS Radio star Clint Boon of Inspiral Carpets fame will be taking over the decks at The Hub to provide a super duper family friendly Indie Disco as part of MFDF's Family Fun Day Sunday! Expect a joyful, Manchester afternoon of great tunes, cracking beers, fabulous food and family frolics.

The classic indie hits will continue into the night ith MFDF favourite DJ Dan Deighan on the decks to close the weekend.
On Monday Festival revelers can look forward to Monday Madness with XS Radio. The only station to broadcast entirely from Manchester Radio XS will be programming the stage on Monday night for a special takeover to kick off the week right. Artists will include Ryan Jarvis, Plastic House, The Smiths legend Mike Joyce and their drive time presenter Clint Boon will be back at the Hub too!
On Wednesday night Albert's Schloss will be taking over the Manchester Food and Drink Festival bringing their wild and wonderful brand of bohemian, eccentric beer palace entertainment to the Hub. Full line up to be announced but expect foot thumping and table dancing!

Thursday 4th will see City Life take over the stage where The Slow Readers Club will be headlining the stage and playing a live free show!
On the Finale weekend, Manchester band, Cassettes, will be headlining the Friday night. A hot covers band led by Bjorn Woodhall, who has recorded for the likes of Bruno Mars, The Who, Alex Hepburn, Simply Red, Nina Nesbitt, Joss Stone, The Hoosiers and performed on lots of European tours. Expect a classy covers set to fire the Festival weekend into gear!

Indie Pop Quartet Corella will be keeping Saturday afternoon up tempo whilst local singer songwriter and busker turned BBC R2 playlist star, Ben Williams, kicks things off with his trademark mellow sounds.

On Sunday the Festival will close in style with a very special show from I Am Kloot legend John Bramwell who'll be showcasing songs from his latest solo album – Leave Alone The Empty Spaces.  John is a one of the UK's most unique, and talented singer-songwriters who has been performing as a musician for over 30 years.
As part of I Am Kloot, he released ten albums, receiving a Mercury Music Prize nomination in 2011, for the exquisite, Sky at Night, produced by Guy Garvey & Craig Potter from Elbow.  A brilliant showman, throughout his career John has developed a legendary live reputation establishing a relationship with audiences with his refreshing honesty and tall stories.
Leave Alone the Empty Spacesis a stunning showcase of John's skillful, widely acclaimed song-writing and his unique voice. It's the first completely new collection of songs by John as a solo artist since he started his adventures away from I Am Kloot. He'll be performing new songs from the album as well as some I Am Kloot classics.

John will be joined by his regular special guest support friend Dave Fidler. A successful singer, songwriter in his own right, Dave has travelled the world with John. He'll be performing a set of some of his classics alongside songs from his latest album I'm Not Here.
A feast of fine artists fit for a Mancunian food festival!
---
« FULL PROGRAMME ANNOUNCED… AND IT'S A WHOPPER! | YES THAT'S RIGHT! THE BIG INDIE WINE FEST IS BACK FOR IT'S 11TH YEAR! »
Posted on 14 September 2018