News
FULL PROGRAMME ANNOUNCED… AND IT'S A WHOPPER!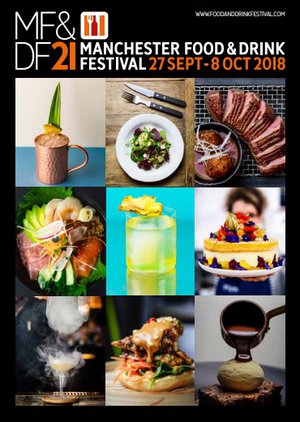 The 21st annual Manchester Food and Drink Festival will take place from 27th September to 8th October 2018.
For its 21st edition, we promise a new chapter for the Festival, with a jam packed programme of events that food fans from all over the country will love.

More than ever it is about enjoying the very best of Manchester's extraordinary food and drink talent and celebrating the city's iconic status, whilst also ensuring that the country's most exciting foodies descend on the city during the Festival.
The Festival Hub on Albert Square will open at 12 noon on Thursday 27th September and will close at 11pm on Sunday 7th October. Open daily from 12.00pm-11.00pm, it will be free to enter. And as promised, it will be refreshed, redesigned and the location for the biggest Festival feast yet.

There'll also be an exquisite programme of events and happenings all over Manchester featuring collaborations with a huge breadth of the city's most talented foodies - from beer brewers to ice cream makers, from chefs to gin distillers.


The nation's biggest food party culminates with the MFDF Gala Dinner and Awards on 8th October.
For a full list of events download your copy of the Festival brochure - HERE!
---
« PUT YOUR HANDS UP IF YOU TAKE THE BEST FOOD SHOTS IN MANCHESTER!! | A STELLAR LIVE MUSIC LINE-UP ANNOUNCED! »
Posted on 5 September 2018