News
MFDF 20 Awards Winners Announced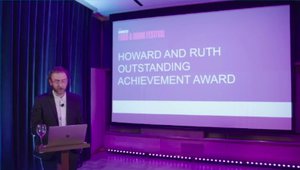 The winners of the 23rd Manchester Food and Drink Festival Awards have been announced today, Monday 5th October, at a virtual award ceremony at MODA Living Apartments in Manchester.  In light of the COVID-19 pandemic and the huge impact it has had upon the hospitality sector, the 2020 awards were adapted for this year with changes to format, award categories and the MFDF Gala Dinner and Awards ceremony itself. 
The Awards were presented in partnership with Festival headline sponsors, food delivery platform Just Eat and celebrated the innovation, resilience, altruism and successes that have taken place within the industry since the last awards, particularly in response to the vast challenges that the sector has faced due to the COVID-19 pandemic.

A host of new categories were created especially for this unprecedented year - all designed to recognise the industry's impressive innovations and adaptations since lockdown and beyond. New awards for 2020 include Best DIY Delivery Food Offering, Best Food and Drink Box Delivery, Best Innovation and Lockdown Heroes. 
And the winners are....
BEST ONLINE 'AT HOME' FOOD AND DRINK CONTENT SPONSORED BY MODA ANGEL
GARDENS 
Recognising the best online food and drink content shared during lockdown by Manchester's chefs, producers and industry experts. 
Cork of the North- For their live wine tasting masterclasses broadcast via social media 
https://www.corkofthenorth.co.uk/wine-tasting-events/
THE BEST RESTAURANT TAKEAWAY ADAPTATION SPONSORED BY JUST EAT 
Recognising restaurants who have adapted their business model, menus and offering to provide a takeaway/delivery service during lockdown. 
Rudy's Pizza 
9 Cotton Street, Ancoats, Manchester M4 5BF
BEST DIY DELIVERY FOOD OFFERING SPONSORED BY ROOMZZZ APARTHOTELS 
Recognising the restaurants, chefs and businesses who have created 'do it yourself' recipe delivery meal kits for people to create their own restaurant quality meals/dishes at home. 
Northern Soul - Grill it Yourself Kit
https://www.northernsoulmcr.com/order-now/ 
Unit 10-11 Church Street, Manchester M4 1PN
BEST FOOD AND DRINK BOX DELIVERY  
Recognising the best food and drink delivery boxes created to serve the community with fine food and drink during lockdown. 
ShinDigger Brewing Co - Beer Delivery Boxes In Under 3 Hours 
https://www.shindiggerbrewing.co 
Unit 11, Springfield Lane Industrial Estate, Salford, M3 7JQ
BEST INNOVATION SPONSORED BY HUN WINE 
Recognising the most impressive business innovations by food and drink operators during the COVID-19 crisis. 
Stretford Foodhall - finding innovative ways to serve the community right the way through lockdown... from street food takeaway to free grocery delivery for the vulnerable. 
Chester Road, Stretford, Manchester M32 9BD
NEWCOMER OF THE YEAR SPONSORED BY BULLEIT BOURBON
Recognising the best new food and drink operations to open in Greater Manchester since the last awards decision period. 
Escape to Freight Island
Baring Street, Manchester M1 2PZ
BEST ONLINE VEGGIE/VEGAN OFFERING SPONSORED BY MEATLESS FARM 
This award recognises the restaurants and food businesses that have provided innovative and exciting menu options for vegetarian and vegan diners via takeaway/delivery services during lockdown.  
Wholesome Junkies
http://www.wholesomejunkies.com
ARTISAN DRINKS PRODUCER OF THE YEARSPONSORED BY FRANKLIN & SONS
This award recognises the plethora of fabulous local drinks producers, from gins and ciders to ales and meads, if it's produced in Greater Manchester and tastes great, we want to celebrate it. 
ShinDigger Brewing Co
https://www.shindiggerbrewing.co
TAKE AWAY COFFEE EXPERIENCE OF THE YEAR
This category recognises quality coffee takeaways during the COVID-19 crisis. 
*This category is an adaptation of The Coffee Shop of the year award and only recognises those businesses that were able to stay open via takeaway. 
Ancoats General Store
57 Great Ancoats Street, Manchester M4 5AB
STREET FOOD TRADER OF THE YEAR
Awarding one of the Greater Manchester-based street food legends who have adapted their services to provide takeaways and deliveries during lockdown. 
Oh Mei Dumpling
https://www.facebook.com/ohmeidumpling/
Lockdown Heroes Sponsored by Manchester Evening News
Eat Well MCR
Howard and Ruth Outstanding Achievement Award
Recognising someone who has contributed something outstanding to the food and drink industry in Greater Manchester. 
Mary-Ellen McTague from The Creameries and Eat Well MCR.  
---
« MFDF 2020 Award nominees announced | MFDF App launch »
Posted on 6 October 2020