News
Visit Manchester's Proper Local Food Day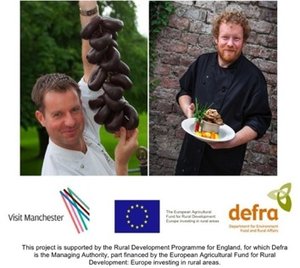 Visit Manchester's 'Proper Local Food Day' aims to celebrate the fantastic food and drink producers that Greater Manchester has to offer. In a nutshell, there's more to Mancunian home grown produce than the iconic Vimto.
Visit Manchester will be showcasing the finest produce around from Bobby's Bangers and their 35 different flavoured sausages to freshly grown vegetables and local ice cream.
In honour of all things local, the Live Cookery Theatre will host a Proper Local Food Cook Off between two of Manchester's favourite home grown chefs – Robert Owen Brown and Andrew Nutter! Both chefs will take to the stage and battle to make the best dish with the ingredients brought along by Greater Manchester's producers.
It will then be up to you, the public, to taste and decide which meal should be crowned winner of the first ever Proper Local Food Cook Off!
Come and join Rob, Andrew and Greater Manchester's finest producers on 28th September from 12pm on Albert Square.
In the meantime you can check out this film which highlights how Greater Manchester's artisan food producers including local butchers, bakers, brewers and farmers are helping the region establish a great fresh food offering.
---
« Robinson's Pub on the Hub | Whats on at the Festival Hub »
Posted on 15 August 2012