News
Grab a Truly Good Festival DIsh for under a tenner!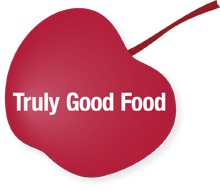 The Festival has long championed sustainability, from bio-degradable cutlery to celebrating local and regional produce. In 2012 we take this long-standing commitment to sustainability a huge step further with the help of our partners, Truly Good Food, by putting sustainable dining at the heart of this year's Festival. Truly Good Food is a scheme designed to recognise and reward eating establishments who are trying to make Manchester healthier and happier by providing sustainable food that's good for you. With Truly Good Food's aims in mind, we've invited Manchester's best restaurants to devise a Festival Dish that represents 'Truly Good Food'. In other words, top-notch gastronomy with health and sustainability at its heart. You'll be able to find delicious Truly Good Food 'Festival Dishes' at the following restaurants for £10 or under! 
For a list of participating restaurants and their dishes click here.
---
« Whats on at the Festival Hub | Manchester Whisky Fest on Sale Now »
Posted on 29 August 2012